November 23, 2020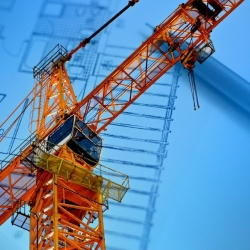 The construction of new offices in central London has declined by half (50 percent) in six months as developers and occupiers shift their focus to refurbishment, according to Deloitte Real Estate's latest London Office Crane Survey. The crane survey analysed office building data over the six months to 30 September, and included a poll of London's biggest developers conducted at the end of September. The total office space under construction in central London is now 15.1 million sq ft. This is similar to the level recorded in the previous survey (15.3 million sq ft, the highest since 2002) as developments are now taking longer to complete.
Siobhan Godley, partner and head of Deloitte Real Estate, said: "As a bellwether of developer sentiment and future office supply in the capital, this crane survey shows a decline in new construction starts to just 2.6 million sq ft across central London. This is down significantly on our previous survey, but remains broadly in line with the survey's long-term average. Notably, a higher than average 40 percent of new construction starts have already been pre-let, indicating less speculative construction."
Mike Cracknell, director at Deloitte Real Estate, said: "Our data reveals that 3.3 million sq ft of office construction was not completed as scheduled between April and September and remains under construction. Had these projects completed on time, the total volume under construction would be almost a quarter lower."
Leasing demand became the biggest challenge to new development this survey. The developers' sentiment survey showed that 57 percent of respondents said letting conditions were either the same or worse when compared to the end of March this year.
Cracknell continued: "Of the developers we surveyed, a clear majority – 85 percent – pointed to weak tenant demand as the major obstacle to starting any new development. Until there is more clarity about occupiers' office plans, developers will hesitate to embark on new projects, particularly speculative ones. Nonetheless, the news about vaccines has already resulted in a re-rating of real estate stocks, and may see both a bigger shift back to the office in the short term, and a strengthening of investor demand in London offices over the medium term."
This reluctance to embark on new office building, especially new projects, has led to a shift towards major refurbishments. The survey found that more than two thirds of the new construction starts involved an extensive upgrade of existing office stock across 28 separate projects. "By transforming outdated buildings into COVID-safe, high-quality workspaces, developers are looking to upgrade and futureproof their offices in a market where occupational demand is increasingly discerning," added Cracknell.
Construction activity
The City of London, which dominated construction activity in previous surveys, has seen new office building activity fall by 60 percent to 1.2 million sq ft across 10 schemes. This compares to 2.8 million sq ft across 16 schemes in the previous survey. Notably, just under half of the City's new construction starts are available to let, again suggesting a lower appetite for speculative development.
Richard Hammell, UK head of financial services at Deloitte, said: "The financial services sector has for many years occupied the lion's share of City office space, considering its office portfolio an essential part of doing business. Even before the pandemic, the sector was actively looking to reduce costs and consolidate its office presence in central London as many functions were distributed across the UK and offshore, and there was an increasing use of automation. The seismic shift in people working from home this year has served to accelerate this trend. While specific in-person aspects of business life most valued by this sector – such as business development, efficient trading, client engagement and employee collaboration – mean that offices will remain part of financial services, the nature and operational use of space will adapt in the years to come."
Office building and development in the West End remained at the same level as in the previous survey, with 12 new starts breaking ground, equivalent to 500,000 sq ft. The Southbank saw five new starts over the summer, amounting to 350,000 sq ft, and Midtown observed a small uptick in new construction activity, with 500,000 sq ft across eight refurbishment schemes.
"Fewer new construction starts, especially projects built speculatively, are likely to take place in the short to medium term as a result of weaker occupier demand, the lack of development finance and the economic downturn," explained Cracknell. "This lower level of new construction and substantial delays in office completions will have a major impact on future supply levels, leading to a self-correction which should prevent oversupply in the short term."
Godley concluded: "The UK is leading the way with remote working across Europe. Nearly three quarters (72 percent) of UK employees would like to work remotely more often in the future – 10 percent higher than that of European peers*. Developers and investors are acutely aware of this growing trend and are thus in a state of suspension before committing to new projects, until there is more clarity in the market and occupiers reveal their future of work strategies."
Image by Convegni_Ancisa