August 2, 2023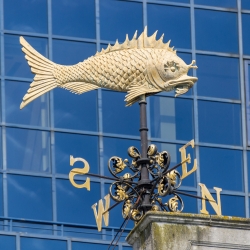 After two years on Brighton seafront, FOOTPRINT+ will relocate to London for 2024. The sustainability event's new home will be Old Billingsgate Market; re-purposed by partner Marco Goldschmied of RSHP in 1985-88 for National Westminster Bank Plc. The building itself enjoyed a low-carbon retrofit, from the 19th century's largest fish market to a central London prime event space. Old Billingsgate is naturally lit, with openable rooflights throughout, and an outdoor terrace directly facing directly out to the Thames. The venue provides the space to accommodate the growth of FOOTPRINT+ while providing greater accessibility for all the various sectors who will now have only a short walk from Monument and London Bridge stations.
FOOTPRINT+ is all about finding much needed solutions, having open conversations and building business relationships. By relocating to the centre of the City, people from various sectors who may only be able to escape for part of a day will be able to benefit from the knowledge and expertise which is only available at FOOTPRINT+.
FOOTPRINT+ 2024 will take place May 8-9 2024 with the main conference running from 10am-5pm as before. AR Future Projects Awards lunch will take place within the event, providing high profile international visitors, and this year there will be an extra stage concentrating on new emerging materials. Sponsors will hold a range of friendly but informative Breakfast Briefings early in the day, and other hospitality events will stretch into the evening. According to the organisers, you will find all of the fun, creativity and collaborative atmosphere of the Brighton event has survived the move.
To learn more about the London 2024 event, register your interest here.
Image: Colin via Wikimedia Commons. Weathervane on Old Billingsgate market