August 2, 2023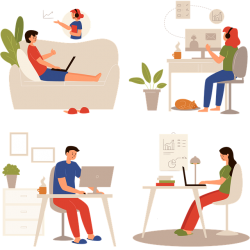 A new study commissioned by Great Western Railway claims to reveal striking generational differences in attitudes towards remote working and its impact on mental health. The research, which explored the effects of remote working on different age groups, highlights a growing concern regarding the isolation experienced by older employees compared to their younger counterparts.
According to the poll, over 55s dislike blurred boundaries and prefer the office environment. Three-in-four (77 percent) workers over 55 struggle with blurring boundaries when working remotely. Consequently, three-in-five (60 percent) have returned to the office full-time, seeking the structure and separation that physical office spaces provide.
It also suggests that reduced human interaction is more pronounced for older workers: Older employees are nearly twice as likely as 16-24-year-old workers to experience loneliness as an effect of remote working. A significant majority (80 percent) of workers aged 45-54 consider reduced in-person contact with colleagues a concern, compared to only 47 percent of 16-24-year-olds.
The report claims that younger workers face additional financial burdens. While only a third (35 percent) of workers aged 25-34 have returned to the office, they have noticed a dramatic increase in their bills due to remote working. This financial strain is a top concern for the younger generation, with over a third (35 percent) reporting it as a significant issue.
It also suggests that people appreciate how commuting provides time for mental reflection and transition.  Two-in-five (41 percent) employees who have returned to the office recognise the value of commuting for mental reflection and transitioning between work and personal life, challenging the assumption that all aspects of remote work are universally favourable.
The study, commissioned by Great Western Railway to look at changes in commuting patterns in recent years, sheds light on the changing attitudes towards remote working and the specific effects on different age groups, highlighting the potential risks faced by remote workers.
Commenting on the findings, Professor Emma Parry from Cranfield School of Management, emphasises the importance of addressing the unique needs of different team members: "Employers must avoid adopting a one-size-fits-all approach and put more trust in their staff to choose a working pattern that allows them to perform to the best of their capabilities."
"We know that open and effective communication is a vital part of engaging employees and creating a positive organisational culture – and without the face-to-face environment of an office, proper communication can slip among remote workers," Professor Parry said.
"As British workers continue to navigate hybrid working models, it is crucial for organisations to take these challenges into account and implement strategies that foster inclusivity and support employee wellbeing."