October 2, 2015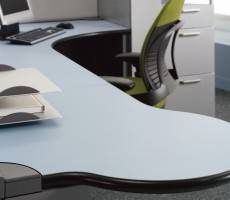 I was involved in a meeting with an office fit-out company this week which involved a discussion of how their clients can develop misconceptions about the extent to which their contemporaries are introducing new office design and management models based on agile working, shared space, mobile technology and all that other good stuff. This presents a particular challenge for firms in the sector because their day to day experiences of what clients talk about and ask from them can be pretty removed from the things talked about in the media. If you were to judge the state of the office solely on the basis of what you read and hear and see at shows, it would be easy to conclude that the office is indeed dying and dragging down with it the markets for office furniture, commercial property and traditional technology. The problem is that the facts don't support that notion at all.
For old farts like me, the meme of the death of the office predates the very idea of memes. What we should have learned over the course of several decades is that far from spelling the death of the office, new models of working culture merely add to the options organisations have when it comes to creating a working environment. Even allowing for this degree of evolution, what is clear is that the traditional office market remains alive and kicking, and so do all the things that go with it.
Commercial Property
As we reported last week, key commercial property markets continue to thrive across the world. Indeed, in cities like London, developers continue to find it hard to keep up with demand and rents continue to soar, obliging firms to consider whether they wouldn't be better off somewhere else. Even hugely disruptive factors such as the proliferation of co-working space appear to be nothing more than an important new addition to the market.
The reasons for this attachment to creating places to bring people together are explored in typically lyrical fashion by the incomparable Neil Usher here. All that remains to add is that so long as people work on the same things and need to develop relationships, they'll want to share physical space.
Office furniture
Desks and chairs remain the office furniture industry's grubby little secret. You won't find too many of them at exhibitions like 100% Design which took place last week in London and you won't find too many  of them in the pages of the media. Yet, sales of them have been rising steadily since we began to emerge from the recession. Walk around most offices and you'll find them there in large numbers.
This is all very understandable. Desks are nowhere near as interesting as other office interior elements and the sight of somebody working with a tablet while sitting on a sofa is hugely more engaging than the reality of that same person toiling away at a desk. But don't be fooled about the reality of work for the majority of people. We're stuck with our bodies and so stuck with the products that support them.
Technology
Traditional forms of technology are proving to be far more resilient than we might suppose. We reported this week how sales of tablets appear to have gone into reverse. Now news emerges that the good old PC appears to be surprisingly resilient. According to a new report from market analysts IDC, sales of laptops continue to rise  but the most popular piece of hardware remains the desktop PC.
According to the study, desktops will see sales fall by 0.6 percent over the next five years while sales of laptops will grow slightly by 1.2 percent over the same period. Not only that, 84 percent of the IT buyers surveyed for the study would consider buying desktops. The buyers believe that desktops are more durable, perform better and are cheaper.
The pattern of change is the same across all three of these factors. There is no doubt that new forms of work are emerging and the places and tools we use to get work done are changing in response. But in many ways they are not replacing what has gone before, but adding new elements to the mix and so we must stop it with the rhetoric about the 'death of the office' because that has been tired and demonstrably untrue for a very long time now.