December 13, 2022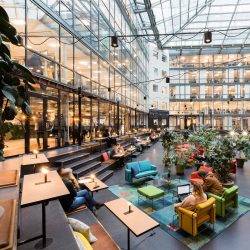 The other night, my fourteen-year-old daughter was revising for her Economics exam, and we discussed the Swedish Economic Model and its relevance in our own age of uncertainty. According to the International Monetary Fund, Sweden's national debt to GDP ratio has fallen chiefly since 1995. We proceeded to discuss the term Gross National Product (GDP). GDP measures the monetary value of final goods and services produced in a country in a given period of time over three months or a year.
Subsequently, we discussed Finland, which measures itself using Human Development Index (HDI). Economists who were part of the United Nations developed the human development index, a summary measure incorporating three critical dimensions of human development: health, education, and living standards.
Robert Kennedy once explained, "GDP Includes air pollution, cigarette advertising, ambulances, jails, napalm, nuclear warheads and armoured cars for the police to fight the riots in our cities… Yet it does not allow for the health of our children, the quality of their education or the joy of their play… it measures everything in short, except that which makes life worthwhile. And it can tell us everything about America except why we are proud to be Americans."
Since the outbreak of COVID, the awareness and understanding that wellness is necessary within the workplace has become a significant part of all business plans and priorities. Whilst businesses pushed for  GROWTH and PROFITABILITY  with little or no reflection or respect around human health, we have seen a fundamental change that human health is a major contribution to business success.
A business that does not have a sustainability statement and goals in its strategic direction or mission statement is frowned upon. However, many of these statements are seen as greenwashing.
Therefore, with all this focus on human well-being, human development, sustainability and carbon footprints, why do we still use GDP as the base of our economic measurements?
Simply put, the World Bank, International Monetary Fund, and other economic institutions are stuck in their ways. They do understand the need, but they are not willing to change. So GDP is the decided way to measure it. It is how they compare countries against each other and how countries outperform one another.
Their world is still flat
If a country releases higher carbon dioxide or methane gases into the open air or dumps toxic waste into our rivers and oceans, the GDP will not be affected!
Can we afford this? Can our planet survive? How long do we wait to understand that the capitalistic model of growth and profitability needs to change in the face of global economic uncertainty?
New Zealand embedded "wellbeing" indicators in the country's budgetary process in 2019. As the country's finance minister, Grant Robertson, put it: "Success is about making New Zealand both a great place to make a living and a great place to make a life."
How can we make a difference?
Wellness in the workplace is a great start, and we could build on this by including other health, sustainability,  education, and living standards in the business results, such as great place-to-work indicators.
A great place-to-work indicator may include the trust between employees and leadership, including employee fairness. Respect for business and sustainability policies, respect for job opportunities and respect between employees.  These indicators will aid in recruitment and employee retention. Highlight the investment made in workplace wellbeing and highlight the wellbeing in the workplace. Employees are so proud when they work for a company that has been awarded the honour of
Imagine, instead of producing a gross profit in our yearly statements, we could produce something like a great place-to-work indicator as the primary business quarterly and annual result.