April 14, 2022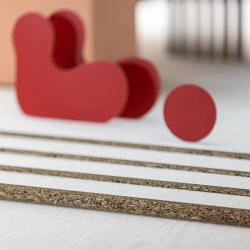 Join UNILIN Panels at the Gallery Clerkenwell on Thursday 28th April as it launches its 2022-2026 decorative range supported by WGSN, the global authority on change forecasting. With more than 220 designs, including 67 brand-new looks, the UNILIN Panels 2022-2026 decorative range offers an extraordinary collection of surface finishes that can be used to bring big ideas to commercial interiors. Launching the collection to architects and designers at a special evening event on Thursday 28th April 2022 at the Gallery Clerkenwell, UNILIN Panels will reveal how its decorative surfaces are ready for today's work and hospitality spaces in a specially curated WGSN presentation, 2023 Interiors Future Forecast.
Global authority on change forecasting, WGSN has over 250 in-house trend experts and its forecasts power the most valuable global brands. For UNILIN Panels, WGSN has curated 2023 Interiors Future Forecast, which provides direction for the future of interiors bringing together analysis of consumer behaviour, materials finishes, patterns, colours and shapes across three key themes.
"New trends require new designs," says product manager, Ann De Blanck. "The Great Materials for Big Ideas launch event at our London showroom will show just how our latest decorative range can let architects and designers respond to future trends, as WGSN reveal the three key themes predicted to influence interior designs in 2023 and beyond."
Great Materials for Big Ideas will be a unique opportunity to understand how decorative surfaces, including the Master Oak, new melamine faced compact MDF and compact HPL, from UNILIN Panels can be used to bring the latest trends to commercial interiors, while providing a versatile finish that's durable and easy to maintain.
Book your place for Great Materials Big Ideas supported by WGSN on Thursday 28th April, 6 – 9pm, on Eventbrite here
Great Materials for Big Ideas
Launching the 2022-2026 decorative range from UNILIN Panels including '2023 Interiors Future Forecast' presented by WGSN.
6pm – 9pm, Thursday 28th April 2022
The Gallery Clerkenwell
21-22 Great Sutton Street
London
EC1V 0DY