April 14, 2022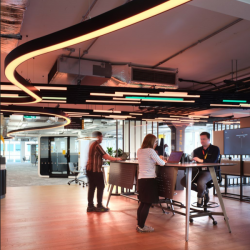 Larger office occupiers are getting to grips with the fallout following the pandemic and are now reassessing their office property needs, according to a new YouGov survey commissioned by law firm Irwin Mitchell. The survey of over 500 office property decision makers shows that nearly half (46 percent) of large businesses and (39 percent) of medium sized companies plan to rethink their office space- whether by upsizing, downsizing, or relocating. The survey shows that one in five large businesses plan to increase their existing office space, with the same proportion looking to reduce space and 5 percent to relocate. In addition, 11 percent are looking to reconfigure their existing space. While 37 percent plan to stay the same.
Those companies looking to make changes but are putting off doing so for more than 12 months cite existing lease terms as the main constraint. This is followed by financial or operational restraints in their business and uncertainty following the pandemic. Overall financial motives are driving those changing their space requirements, with one third of large businesses citing a desire to save on occupier costs. And over a third (35 percent) also say they are responding to the changing ways their employees work following the pandemic and are looking at providing greater flexibility in how or where their employees work, as well as means to attract and retain staff.
Looking across all businesses surveyed as a whole, the number looking to change their office space drops down to 29 percent, with 56 percent of businesses overall planning to keep their existing space and another 11 percent planning to reorganise their current offices. The difference in attitude is most acute in smaller and microbusinesses where only 21 percent of such businesses are looking to alter their office space in some way – probably as a sign of financial caution following the pandemic.
The survey also claims:
• Asked to name the two top drivers for having an office , 40 percent of all businesses (and 54 percent of large businesses) said they see the office as an important space for collaboration and 40 percent of businesses said they feel their staff work better in an office.
• 37 percent of larger companies also see the office an important place to nurture employees in a way that embodies its organisational culture. 61 percent of large businesses and 56 percent of medium businesses said having the office as a place to nurture and mentor staff was important.
• In terms of location, cities remain popular with 50 percent of businesses saying they'd prefer to be either in a city/town centre or on the edge of the city. This was particularly high with large businesses where 68 percent gave a vote to being in or around the city.
• Nearly a quarter (24 percent) of businesses planning to change their property requirements said they would be looking at flexible space. This rose to 35 percent among the large corporates.
• 43 percent of all businesses, rising to 62 percent of large businesses cited recruiting and retaining staff as one of the biggest threats their business. Larger businesses revealed that their employees want and expect to work in modern, quality space (48 percent), with great WIFI and technology (44 percent), have agile/flexible working (43 percent) and be in an environmentally friendly/healthy building (37 percent). Good shops and leisure conveniences nearby were not as big a vote winner as might be expected- only 8 percent of large businesses said this was important to their staff , perhaps reflecting the move to a more hybrid way of working with employees now shopping and gyming nearer to home.
• 15 percent of respondents from large businesses are willing to pay higher rent for greener office space with an additional 29 percent saying they would pay more if there was some financial benefit as a result, such as a reduction in service charges or energy bills. By contrast 51 percent of small businesses said they would not be willing to pay more rent to follow the green agenda. It looks like currently green decisions are still being driven by financial considerations with only the larger companies able to take the long-term view and invest accordingly.
• Asked for their top three choices, 37 percent of large businesses said an environmentally friendly/ healthy office was important to staff who want fresh air and natural light. Fresh air/good ventilation was mentioned by (76 percent) of those surveyed, Natural light (76 percent), Space between desks (37 percent) and Personal space individuals can control (31 percent). Only (2 percent) cited having a gym as important. The choice of these factors again reflecting a reassessment of what is important in the working environment post-pandemic.
• 68 percent of all businesses say they're not willing to invest in proptech. However, support for proptech increased significantly across larger businesses with 28 percent of large businesses and 23 percent of medium sized businesses saying they would use it to support their ESG agenda. This may be in the form of energy regulation for their offices, or online document systems to reduce their paper output or maybe to support employee wellbeing,
• 75 percent of large employers said compliance with the Government's Disability Strategy was either important or very important when deciding on office space. This fell to 61 percent for medium sized companies and 39 percent for smaller and micro businesses. 13 percent of respondents in microbusinesses said they did not know about the Strategy at all.
Image: PwC Belfast offices. KI