November 12, 2023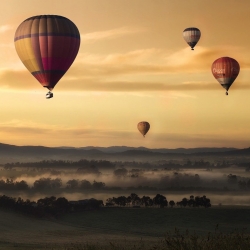 BGF, one of the largest and most experienced investors in the UK and Ireland, has completed a multi-million-pound investment in Artus Air Limited ("Artus"), as part of a wider funding round alongside leading venture capital firm, Par Equity. Artus designs and sells game-changing HVAC (Heating, Ventilation and Air Conditioning) units for buildings, with its innovative, elegant design significantly reducing carbon emissions both by using fewer materials and being more efficient to operate.
Spun out of global sustainable development consultancy Arup in 2021, the company has offices in Edinburgh and London, serving an HVAC market estimated to be worth over $100bn globally. There are already several thousand Artus units deployed, including significant installations at a number of landmark new build and refurbished building developments in cities across the UK and Europe.
With Deloitte estimating that 80 percent of London's offices need upgrading to meet future energy efficiency standards, and 6 percent of the UK's emissions coming from heating and cooling commercial and public buildings, Artus can play a key role in retrofitting more carbon efficient HVAC systems. The investment will enable the company to rapidly scale its sales function, expand its product range and establish new international export partnerships, ultimately allowing Artus to deliver its transformational product to more clients.
The wider HVAC sector is highly acquisitive as increasingly stringent regulatory requirements drive urgent technical innovation. Artus is one such innovator, and its climate efficient technology achieves more than 80 percent fan energy savings compared to other fan coil units.
Rebecca Stewart, CEO of Artus Air, said: "This investment marks a transformative moment in Artus Air's growth journey. Our track record of delivery shows why we are the future of air conditioning – our solution delivers significant carbon savings, is demonstrably faster to install and is easier to maintain. It also has the added benefit of being super compact, meaning that sometimes it's the only solution to the upgrade of tricky spaces. BGF's investment alongside the continuing support of Par Equity is warmly welcomed as we expand our offering into high potential markets in Europe and the US. We look forward to reducing our impact on the environment and setting new standards within the industry."