November 12, 2023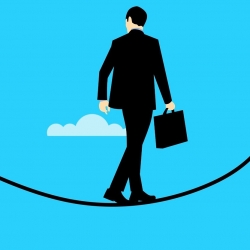 According to new research by Marsh, an insurance broker and risk advisor, companies across the UK are most concerned about the impact of financial uncertainty (34 percent), employee health and wellbeing (31 percent) and supply chain disruption (23 percent) on their businesses over the next 12 months. The findings come from Marsh's UK Business Risk Report 2023 [registration], which features data obtained in May and June 2023 from over 2,100 UK businesses with turnover of between £100,000 and £500 million + per year. Now in its third year, the report explores how circumstances over the last 12 months have impacted the business risk appetite and approach to risk management among UK companies, and identifies their priorities for the year ahead. 
According to the research, financial uncertainty is the top risk facing UK businesses due to rising inflation, energy prices, and raw material costs. However, only 34 percent of respondents see it as a significant concern, the lowest percentage in the last three years (43 percent in 2021, 37 percent in 2022). This is due to businesses strengthening their financial resilience during the pandemic and a return to more familiar financial risks, post-Covid.
Despite operating in a challenging trading environment, many UK businesses are optimistic about their financial prospects for the year ahead, with 50 percent expecting an increase in productivity, 47 percent expecting an increase in turnover, and 46 percent expecting an increase in profitability.
Other findings include:
People-related risks are a top concern, with employee mental health and wellbeing (31 percent), talent retention, attraction and succession planning (22 percent), and health and safety of the public and employees (21 percent) taking second, fourth and fifth place respectively.
Over the last 12 months, only 47 percent UK businesses addressed health and safety policies and procedures, and employee mental health and wellbeing offerings (51 percent). Looking ahead however, these are determined to be the top two 'people' priorities. Reviewing workplace culture and leadership is also a cited as a focus area for one in three businesses in the year ahead.
Environmental, social and governance (ESG) standards were identified as a priority for the majority of UK businesses, with just over half (55 percent) of respondents understanding ESG requirements and half (50 percent) incorporating ESG into business strategy. Some are also already passing those expectations down through their supply chains with 48 percent of businesses having reviewed their suppliers' ESG strategies over the last three years.
While reporting on ESG performance is already mandatory for large UK businesses, the vast majority of respondents (76 percent) have not yet embedded ESG into their business strategies.