November 10, 2023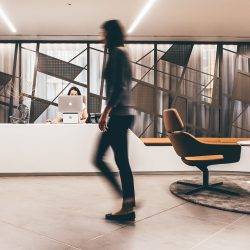 The past year has been a challenging one for London's commercial fit-out market. Whilst industry supply and demand dynamics may have found a level of equilibrium since the pandemic, geopolitical tensions, economic disruptions, and an unstable domestic policy environment continue to have an impact. In tandem with this, the commercial fit-out market is adapting to changing needs; from accommodating hybrid working models to growing demands for sustainability and reuse, the workplaces of today are ever changing.
The background to this inevitably lies in the fiscal constraints, strained project budgets challenged by higher borrowing and construction costs reaching unprecedented highs.
While the volatility and inflation has eased off quicker than expected and interest rates have appeared to stabilise, persisting supply chain challenges mean that the market needs to carefully consider how to keep delivering best value, cost certainty and quality for new build and office refurbishments.
Looking at the current landscape, our Q3 and Q4 market insights report shows an evolving but ultimately positive situation. The construction industry currently faces significant headwinds, as output is forecast to contract by 7 percent in 2023, according to the Construction Product Association's latest projections, before stabilising next year and returning to growth in 2025. The commercial offices sector, too, is forecast to strengthen next year and grow in 2025.
Ongoing challenges around rising costs and uncertainty continue as, despite emerging signs of improvement in the availability of materials and price increases finally settling, on average material prices are still over around 40 percent higher than in early 2020. Skilled labour shortages are slowly improving but the total UK headcount is still 12 percent lower than four years ago. Pressure on wages and labour has resulted in fit-out tender price rises of 4-5 percent and the challenge now pivots to manufacturing and fabrication.
Growing insolvencies in the sector are another challenge, as over 4,000 construction firms in the UK closed their doors last year. Insolvency rates are now at 35 percent above pre-pandemic figures and the highest they have been in a decade. All of these factors are undoubtedly leading to some commercial development decisions being delayed, as landlords and occupiers consider waiting for the market and prices to settle.
However, waiting will unlikely make a significant difference to costs, as the cost of construction overall rarely improves over the long term at least not significantly – the new normal is simply accepted time and time again. The insurances and bond market has progressively become more cautious; high value and amended bonds will be difficult to procure and the cost of insurance will inevitably creep.
Delivering value
Despite all of the issues facing the workplace sector, it still needs to, and can, deliver value – the key is to give it as much time as you can, do your due diligence, consider all the options and put in place a robust strategy to deliver projects on time and on budget.
We are moving towards a period of softening demand so, although industry conditions will inevitably become more competitive, price reductions in materials and labour will be limited. This, against the backdrop of a volatile market defined by economic and political challenges, means looking beyond just price and understanding the bigger picture when making procurement decisions, as opting for the cheapest alternative can bring major risks.
There are hidden costs in value engineering, when it comes to the time, resource, and potential false economies it can introduce when prioritising cost above all else. This rings especially true when occupiers are demanding the highest quality for less, and contractors are squeezing their margins to secure work or, worse still, becoming insolvent.
Traditional tendering methods are proving less efficient which prompted a lean towards the hybrid two-stage model to help meet specific client needs and ensure value
Early contractor engagement and due diligence, meanwhile, helps ensure supply security and supports the development of robust risk mitigation strategies. The nature of commercial projects has evolved, as tender and delivery timeframes have become more aggressive and incorporate changing project specifications. In a climate where timeframes and budgets face heightened scrutiny, partnerships and more structured frameworks are likely to come to the fore.
Traditional tendering methods are proving less efficient which prompted a lean towards the hybrid two-stage model to help meet specific client needs and ensure value. The appetite to secure work going into 2024 and the looming election will highlight the benefits of single stage competitive tendering; allowing prospective clients to make the most of competitive market tension. A worthwhile upgrade to this will be to consider tendering on an earlier stage of design and developing the design with the contractor bringing in efficiencies in time and cost. Whilst it has historically been disregarded, negotiation is also on the rise. Emerging as a quicker, lower-risk avenue for procurement and delivery which is founded on collaboration and partnership and may ultimately lead to a hybrid framework-negotiation model in years to come.
The high level of specialist contractor insolvencies in the wake of recent inflationary challenges has demonstrated that longstanding structural industry issues are still very much at play and must be addressed if delivery capacity and capability is to be protected. More tangible changes are needed for construction to become more collaborative and efficient, to ensure a thriving future. In the supply chain, sub-contractors often face the greatest exposure to risk and tied into fixed price contracts.
As an industry we cannot ignore how the demise of prominent firms has shone a spotlight on the traditional cash flow of projects as many specialist sub-contractors will now prioritise ways to increase assurance and resilience. The residual impact of this will take time to trickle through and will likely encourage demand for stage payments and question the antiquated practice of retention. More collaborative and agile ways of working can be a real boon here going forward which could be a positive outcome in setting the stage of this new chapter in fit-out.
Fundamentally, greater collaboration, transparency and trust have always been a prominent fixture in how the fit-out industry needs to improve, and it is encouraging that outdated approaches and strategies could finally be forced to evolve for the better.