November 12, 2023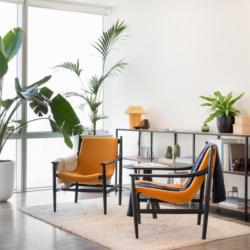 Bisley, the south Wales based office furniture designer and manufacturer, is consolidating its success in the Middle East region with the launch of a new Dubai showroom, the largest showroom in its global portfolio. Located in Dubai's central business district, the new showroom joins others in Bisley's global portfolio including New York, Paris, and Dusseldorf, and follows the summer 2023 launch of Bisley's Manchester showroom, its first in the north of the UK, designed to service significant market growth in the northern and Scottish markets.
The new 744 sq m Dubai showroom is located on the 45th floor of the U-Bora office tower and enjoys panoramic views of the iconic skyline, with views of the Burj Khalifa and downtown Dubai.
The new showroom has been opened to help Bisley deliver on surging demand for commercial office space in the region, where letting agents are increasingly noting a specific requirement for more and more Grade A developments, that are efficiently managed, well maintained and delivering on ESG standards.
Recent office projects undertaken by Bisley in Dubai include the Bank of America and PwC. The firm already works extensively throughout the Middle East, having designed workspaces for companies including the National Bank of Bahrain, as well as providing £200k of steel storage for Al Adan Hospital in Kuwait. Bisley has also supplied furniture to most of the college buildings on the Kuwait University campus, one of the largest educational campuses in the world.
Gaurav Jaiswal, Managing Director Middle East for Bisley, said: "We are extremely proud to be launching the largest Bisley showroom in the world here in Dubai. This facility will be positioned as Bisley's regional head office serving clients from the Middle East and Indian subcontinent."
"The launch of the new Bisley showroom in Dubai is the start of a more extensive roll out of our presence within the Middle East", says Bisley CEO Richard Costin, "the sheer volume of office space in Dubai alone – which is in the tens of millions of square metres and growing annually – absolutely means that Bisley should have a presence in the city.
"And as the Middle East's other major cities – Doha, Abu Dhabi, Riyadh and others – continue on their current growth trajectory, Bisley certainly intends to play a role in shaping the function and aesthetics of the workspaces that will guide the economic future of the region."