November 12, 2023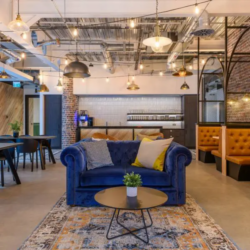 For many people, a large portion of the day is spent at the workplace. In fact, the average person will spend 90,000 hours at work over a lifetime. The Covid-19 pandemic saw the typical 'workplace' setting change for many people, after businesses around the globe were forced to adjust to a 'work-from-home' model. Now, three years later, we are starting to see more employees return to the office, with large corporations including JPMorgan, Chase, Apple and Google all announcing plans to bring their workers back to base.
An office-based approach means businesses can once again reap the managerial, cultural, and other benefits of having a centralised workforce. However, not everyone is equally eager to return. According to Pew Research, among people working from home full-time or most of the time in early 2022, 78 percent said they would like to continue doing so, and a study by global staffing firm Robert Half shows that around one in three professionals [34 percent] working from home would look for a new job if required to be in the office full time.
Furthermore, a recent report highlights that almost three-quarters of employees need incentives to return to traditional office life.
Clearly, employees have developed an affinity for remote-work flexibility that has grown into an expectation for the future. This leaves the future of the office at a turning point. Employee expectations have increased, and they want to see their workspace offer them more value. For businesses, simply ordering workers to show up in person again isn't enough. They must change their outlooks too if they wish to entice workers back.
The future of the office?
While 'hotelification' of the office – repositioning the traditional office environment as a high-end workspace with hotel-like amenities – has been one trend gaining momentum, planners, designers and architects are now turning their attention to 'home-ification' of office space – dedicated environments that feel like a 'home from home'.
Today's office space is more than just a 'place of work'. It needs to feel like an extension of the home, incorporating inviting spaces designed with comfort and social interaction in mind, whether this be break areas, relaxation spaces, reception areas or meeting rooms.
The current cost of living means many employees are not blessed with generous amounts of personal space or to setup dedicated home offices. Business can help, by applying a home-ification philosophy and creating a workplace that reflects what employees need but may not already have, enabling them to feel at home at work.
Designers need to find ways to foster a sense of tranquillity at the office, considering the psychological effects of different colours and introducing soft gentle hues to provide a space where employees feel at ease. Some might even consider moving to an old, characterful building to help recreate the true feeling of 'home'.
Incorporating 'nooks' is a simple way to help encourage employees to relax, and minimise the sense of being in an overly-corporate 'work' environment.
Nature has a profound impact on human wellbeing, and incorporating natural elements into office design can have tremendous benefits for employee health and happiness. One way to integrate nature into the office is by adding plants and greenery. Plants create a calming and stress-reducing environment. Additionally, views of nature, like windows overlooking green spaces or water features, can provide a sense of tranquillity and connection to the outdoors that employees might enjoy at home. Introducing soft furnishing solutions and warmer lighting can also help create a more inviting atmosphere.
According to The Economist, in a post-pandemic world, where hybrid working is becoming the norm and more businesses are looking to return to the office full time, the office is no longer simply a bricks and mortar work location, but rather 'a social destination'
There has been a paradigm shift in how we should approach office design. Offices should no longer be viewed as staff 'containers' but, rather, comfortable and inviting working spaces that promote social interaction, collaboration and productivity. Incorporating more homely design elements can help attract and retain new talent and clients, particularly those who prioritise integration between their professional and personal lives.
To encourage workers back to the office, businesses are going to have to think outside the box when briefing office designers to adapt to this new template, with the need for collaboration and employee wellbeing rising to the top of the agenda.