April 12, 2015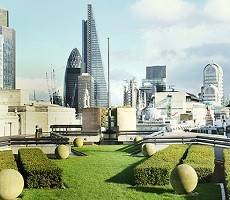 Green infrastructure, social sustainability and intelligent design are the main themes for this year's Green Sky Thinking event, which takes place between 20-24 April. The event includes a range of informal session and on-site talks that highlight what the organisers claim is best practice on how to 'design in' sustainability. The purpose of the programme, led by Open-City, is to enable those working within the built environment to see real life sustainable solutions, talking face to face with those responsible for designing, delivering and managing successful schemes. Its ultimate aim is to help them gain a holistic and cross-disciplinary understanding of how sustainable development is being practically applied across London, while understanding the current technologies, policy and thinking and how these translate into practice.
The week involves over 60 industry organisations and sustainability experts to host the week's events, with the programme created and run by architecture education organisation Open-City with the assistance of the Sustainability Soundings Board.
Just some of the events include:
The programme for Green Sky Thinking is directed towards those who influence how a sustainable built environment is financed, created, designed and managed; including decision-makers (local authority councilors, planners, policy makers) to industry professionals (architects, designers, engineers, construction professionals) to end-users (clients, developers, asset managers, housing associations, neighbourhood groups).
Commented Victoria Thornton OBC, Founding Director, Open-City: "Now in its fifth year Green Sky Thinking has become a much anticipated annual event in the industry calendar, it continues to champion best practice, thinking and collaboration for a sustainable London and its communities."
To view the full programme for the week click here.