August 1, 2016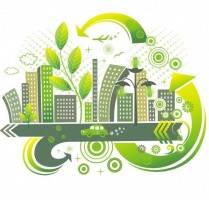 The changing energy demands of British cities are revealed in a new report published by Smart Energy GB and the Centre for Economics and Business Research. The report's central claim is that urbanisation, economic growth and new technology will drive cities to meet their energy demands with the greater use of sustainable and renewable sources. The authors claim that  this is the first time that predictions about increases in energy demand in the UK have been analysed and published on a city level. The Powering Future Cities report suggests that this growing demand will primarily be driven by urban population growth, economic growth and a predicted surge in use of new technology, including electric vehicles. The report coincides with an announcement that the World Green Building Council has created a new partnership with the World Resources Institute-led Building Efficiency Accelerator (BEA) to fast-track improvements to energy efficiency within buildings.
The announcement from WorldGBC claims that Green Building Councils are joining forces with leading cities around the world to dramatically ramp up energy efficiency within buildings, under a new partnership between the World Green Building Council (WorldGBC) and the World Resources Institute-led Building Efficiency Accelerator (BEA).
Green Building Councils in Colombia, the United Arab Emirates, Poland and South Africa will work with Mayors and staff in the cities of Bogota, Dubai, Warsaw and Tshwane, respectively, under the BEA in a bid to double the rate of energy efficiency by 2030. They will help cities to define the best action they can take to make efficiency improvements and receive market buy-in from those in the sector who will help to deliver these energy savings.
This work is being undertaken as part of the BEA, a public-private partnership of cities, businesses and organisations which aims to improve energy efficiency in buildings. The BEA is one of six accelerators under Sustainable Energy for All (SE4All), an initiative led by the United Nations Secretary-General, and is funded by the Global Environment Facility (GEF).
As one of the larger delivery partners under the BEA, WorldGBC and the participating Green Building Councils are turning climate finance into concrete, timely and measurable action in cities in the wake of COP21. This includes Green Building Councils providing direct support to the city governments mentioned above, while WorldGBC will primarily share resources and build capacity around the value of green building certification programmes which can operate at a national but also local level.
Announcing the partnership at the Green Building Council of South Africa's annual convention in Johannesburg, Terri Wills, CEO of the World Green Building Council, said: "Cities and the buildings which make them up consume around 75 per cent of global energy, putting them at the coal face of our fight against climate change. But whilst they are a major consumer of energy, cities also have huge potential to dramatically reduce energy use, with buildings offering one of the most effective ways to do so. Through collaboration with cities, our Green Building Councils will provide on-the-ground expertise to help realise this opportunity."
Jennifer Layke, Director, Building Efficiency Initiative, WRI Ross Center for Sustainable Cities, World Resources Institute, said: "Cities are powerful leaders: as owners, investors and regulators, they shape the sustainability of our future. Buildings that are efficient improve the productivity of both people and energy systems. By joining forces, the WorldGBC and the Building Efficiency Accelerator support the success of policy and project action taken by all cities: those that are inspirational examples and those that aspire to do much more. Working in partnership, WRI and WorldGBC bring more knowledge and resources to help BEA partner cities."
The report from Smart Energy GB highlights some of the strides UK cities are already making to meet demand, using smarter technology.
In Bristol the Smart Energy City Collaboration has mapped out the steps needed to leverage smart energy data to curb energy waste and cut demand, enhance the value of local renewable energy generation, and target better support to people in fuel poverty.
In Nottingham a ground breaking solar battery storage project is preparing for launch.
In London the Energy Efficiency Fund is supporting programmes to help Londoners make energy saving improvements to buildings across the city.