June 20, 2017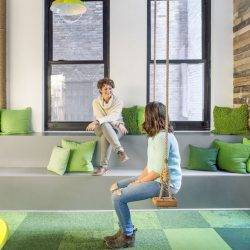 UK employers are falling short of fully supporting mental health in the workplace, with half of UK employees say their workplace has a negative impact on their physical, mental and financial wellbeing, a new survey claims. And according to the Global Employee Benefits Watch 2017/18 from Thomsons Online Benefits of over 2,000 office workers around the world, multinational organisations are not using benefits effectively to improve employee wellbeing and provide a positive workplace experience. Almost 40 percent of employees cite improving mental wellbeing as a life goal, yet less than half of those (18 percent), feel that their benefits scheme supports this. The situation is similar for those wanting to get fit and healthy; 44 percent of employees are keen to do this, yet less than half of them (20 percent) say their employer is helping them to fulfil this ambition.
Luke Prankard, Practice Lead, Health and Wellbeing at Thomsons Online Benefits said:  "Keeping employees fit and healthy is business critical, but employers need to think beyond this and align their people and benefits strategies to promote holistic employee wellness, addressing employees' mental, physical and financial health. Supporting employees in achieving their life goals will help hit each of these
Over 45 percent of employees cite 'saving for a holiday' and 'work-life balance' as life goals; high priorities for those aged between 18 and 25 – but only 12 percent and 25 percent of employees respectively feel that their benefits schemes support these. With household debt in the UK at a record high and one in four UK families having less than £95 in savings, employees are in a worse position than ever when it comes to saving for a holiday break – something that can contribute significantly to their sense of wellbeing. Employers are missing an engagement opportunity by not helping workers save for one of their key life goals.
UK employers are doing a better job of supporting those employees looking to save for retirement. This is a goal for over 50 percent of UK employees, and over 40 percent feel that their benefits scheme supports this. The picture is less rosy in the rest of Europe, where 60 percent aim to save for retirement, yet only 30 percent are supported to do so. There is an even greater opportunity for these employers to take the lead and offer more support for retirement saving.