September 14, 2023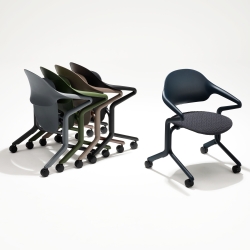 We may not always know exactly what the future of work holds, but we can design spaces that are ready for it. The ability to respond to change is one of the most important facets of an effective design in the era of widespread hybrid working, alongside the ability to tailor a solution that meets the diverse needs of individuals for the best possible working environment at any one time.
These truisms were evident long before the pandemic focused global attention on them. And Herman Miller has been pioneering furniture designs that meet those and other needs for a hundred years. Its latest design is a product that is unmistakeably a solution for the new era of work, yet one that sits in the firm's proud tradition of human-centric innovation, perfect for both the present and future of work.
The new Fuld Nesting Chair has been created in collaboration with world famous designer Stefan Diez. Its sleek, minimalist design allows people to configure spaces for a wide range of uses and environments. It is just as at home in a corporate breakout space, training or meeting room as it is in an educational setting. When the use of a space changes, Fuld responds easily and quickly.
There's no other company that cares so much about engineering and quality

…Stefan Diez
The striking Y-shaped tubular arms allows the chair to be nested when not in use, the first in the Herman Miller portfolio to offer this flexible, space-saving functionality.
For optimum ergonomic comfort, the back offers a degree of dynamic elasticity, encouraging movement and supporting people in a range of postures. And its wide range of finishes and colours means you have complete control over the aesthetic of your workspace.
"We're excited to welcome Stefan Diez to the Herman Miller portfolio after his work for the wider MillerKnoll collective," says Malisa Bryant, Senior Vice President of Global Product, "Diez prioritises sustainability and innovation within his designs, which have long been core values for Herman Miller."
Of course, any contemporary design must also care for the environment. Fuld is no exception. The minimalist design is based on a one-piece construction of backrest, arms and back legs. The chair uses just two materials, so it is easy to manage and recycle throughout and at the end of its lifecycle. The optional 3D knitted textile seat is available in 50 per cent post-consumer recycled polyester and is fitted precisely to the chair's dimensions, so there is no waste.
"I am thrilled to have designed the first nesting chair for Herman Miller," says Stefan Diez. "There's no other company that cares so much about engineering and quality. It's very supportive, it's quite unparalleled, very forward-thinking. The collaboration with Herman Miller never feels like it's driven by constraints but driven more by an idea. It's clear what we're working for: The product that comes out from the process is not a product that is a compromise, and that's what I love.
Fuld is now available to contract customers for purchase through Herman Miller and MillerKnoll dealers in the UK and Europe. Visit the Herman Miller website for additional details.