December 13, 2013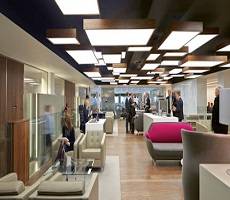 PwC's nine-storey headquarters at One Embankment Place in London has surpassed all BREEAM scores to date for both new build and existing structures. The 450,000 sq ft commercial office building located at Charing Cross station in London has achieved a milestone 96.31 per cent BREEAM Outstanding score, including a 100 per cent score for materials, transport and management. Built in the early 1990s, the structure, which comprises a basement below the station and nine floors of office space above it, has had a complete office refit and refurbishment as well as full central plant replacement in the basement areas, roof and terraces. Achieving a high BREEAM rating and EPC score was a priority of the refit, which was achieved while some 2,000 staff remained in occupation.
The project was defined by a collaborative team approach, as the design includes a central space linking the existing north and south atriums and a cantilevered staircase on the linking staff floors connecting to refreshment and communal working spaces. Two scenic lifts take visitors to the seminar, meeting rooms and business lounge, with executive meeting and dining spaces on the top floor providing views across London.
Sustainability was embedded into the design from the outset, with the engagement by PwC of a BREEAM AP and energy modelling specialist at RIBA stage B to develop options for achieving its target high BREEAM rating.
The programme included installation of biofuel combined cooling heat and power (CCHP) with adsorption chillers using biofuel sourced from locally collected and refined waste vegetable oil. Through a knowledge transfer partnership between PwC and London South Bank University, the biofuel is certified to EN14214 making it a clean carbon neutral resource with A rated energy performance.
Other features include:
Green walls and landscaped garden planting
Waterless urinals and low flush toilets
Comprehensive metering strategy and building management systems (BMS)
Interactive screen in reception confirming building energy usage
Responsible sourcing of 95% of materials used within the construction, with an ISO 14001 certificate as a minimum
Staircase installed within the atria to promote vertical movement without the use of lifts
'The impressive BREEAM score for this iconic building shows just how much can be accomplished,' said Gavin Dunn, Director of BREEAM. 'The project is a fantastic testament to PwC's determination to achieve a high rating and to the project's innovative and highly committed delivery team.'