August 25, 2022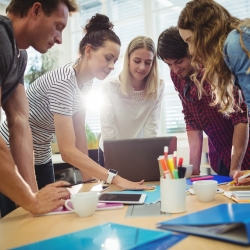 Finding the right tech talent for your business is essential for its success. The right employees can help your business grow and reach new heights. When looking for tech talent, there are a few things to keep in mind. Keep reading to find out where to find the best tech talent for your business.
Use a staff augmentation service
Using an IT staff augmentation service is a great way to recruit tech talent without the actual effort of recruiting. IT staff augmentation is a process by which businesses can hire temporary workers to fill specific IT roles. This can be a great option for short-staffed businesses or needing help with a specific project. By working with an IT staffing agency, businesses can find qualified workers who are available for short-term assignments. It's important to remember that IT staff augmentation is not a long-term solution. If you're looking for a permanent IT employee, you'll need to find someone qualified, and with the skills you need. However, if you're looking for help with a specific project or you're short-staffed, IT staff augmentation can be an excellent option.
Attend tech events
Attending tech events is a great way to find top tech talent for your business. By networking with other professionals in the industry, you can learn about new technologies and find talented developers and engineers. Additionally, attending tech events can help you build relationships with potential clients and partners. Consider your business goals and the technologies you're interested in when looking for events to attend. There are many different types of tech events, from large conferences to smaller meetups. Once you've identified some events to attend, make sure to prepare ahead of time. Plan out who you want to meet and what types of conversations you want to have. Bring business cards and be prepared to talk about your company and what type of talent you're looking for.
Use recruiting agencies
Recruiting agencies can be a great resource when it comes to finding top tech talent. They have a large pool of candidates to choose from and know how to find the best talent in the industry. They also have a lot of experience matching candidates with the right jobs, so they can help you find the perfect fit for your organization. To find the best recruiting agency for your organization, ask around and see if your colleagues have worked with an excellent recruiting agency in the past. Once you've narrowed down your options, take the time to interview each agency. Ask them about their process, and find out what kinds of candidates they specialize in.
Cast a wide net
Casting a wide net in the business world is the process of expanding your search to identify potential top tech talent for your business. The first step in this process is to create a job description that accurately describes the position you need to fill and the skills required for the role. Once you have created your job description, you can then post it on job boards or online search engines to find qualified candidates. You can also reach out to your network of contacts, including former employees, colleagues, and friends, to see if they know anyone who would be a good fit for the role. More notably, you could extend your reach even further by opening the position up to telecommuters.
Utilise online resources
Many great online resources can help you find top tech talent for your business. Some of the best include Indeed, LinkedIn, and TechCrunch. Indeed is a search engine that allows you to search for jobs based on keywords and location. You can also filter your results by date, company, and job title. LinkedIn is a social networking site for professionals that allows you to search and view profiles of potential candidates. You could also use software like Greenhouse.io to create a streamlined application process on your business website. If you opt for this choice, be sure to effectively market the job listing via social media or on your website.
Finding the best tech talent for your business can be a challenging task. But by following these tips, you can find the perfect candidate for the role.