March 13, 2020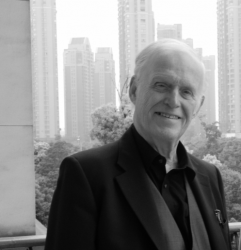 In the third in our series of wellbeing podcasts published in partnership with Wellworking, I am in conversation with Derek Clements-Croome, one of the world's leading experts on wellbeing and sustainability in the workplace. We look at the increasingly powerful links between personal wellbeing and green sustainable building design and consider some of the most important yet last talked about wellbeing and productivity issues such as temperature and air quality.
Derek also talks about his new Flourish model which offers an unparalleled framework for considering the complexities of wellbeing and its links to engagement, productivity and creativity. The model also explores the links between green building design and personal wellbeing and the importance of offering people the chance to work in buildings with the WOW factor.
About Derek Clements-Croome
Before entering university life, Derek Clements-Croome worked in the building design and contracting industry. He has founded and directed courses including a BSc in building environmental engineering at Loughborough University in 1970 and an interdisciplinary MSc in Intelligent Buildings at Reading University in 1996 covering design and management of intelligent buildings. He has also worked in architecture and building engineering at the university of Bath (1978-1988). His research is documented in his publications.
He now offers strategic advice to clients, designers and facilities managers on attaining and managing healthy and sustainable environments in buildings of all types. He researches, writes and lectures on these issues for companies and wider audiences nationally and internationally in China, Australia, New Zealand, South Africa, Poland and Finland particularly. Some of his books have been published in Chinese and Russian.
He edits and founded the Intelligent Buildings International Journal published by Taylor and Francis and is a Coordinator of CIB Commission W098 Intelligent and Responsive Buildings. Derek is also a Commissioner for Hammersmith and Fulham and Haringey, BEE for CABE arm of Design Council, Fellow of the BRE Academy and Fellow of Royal Society of Medicine.
All of the Workplace Insight podcasts are available on Soundcloud, Spotify and iTunes, or simply listen online below.