March 25, 2015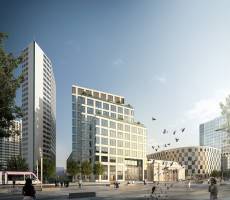 Banking giant HSBC has announced the relocation of its core banking business for personal and business customers to the Arena Central development in Birmingham. The move will see the bank take a long term lease on a 210,000 sq. ft. office and relocate around a thousand employees to the new headquarters building from London over the next four years. The choice of location follows a review into the bank's operations and its ability to service the needs of some 16 million customers in the UK. The West Midlands is the UK's second largest financial centre after London, with some 220,000 employees across the region. Two years ago, Deutsche Bank completed a deal for 200,000 sq. ft. of new space at Brindleyplace and earlier this year, the local council announced plans for the Snow Hill area in an attempt to create an alternative to London's Docklands.
In an interview with the Financial Times,  Antonio Simoes, CEO of HSBC UK, said: "We have been looking at options for the head office of our ring-fenced bank for some time. It became clear to us that Birmingham would be the right location. The city is close to London, but also brings us within easy reach of our 16m customers based across the UK. Birmingham is a vibrant, growing city that has the expertise and infrastructure to support our ring-fenced bank and brings us a step closer to our ambition of being the bank of choice in the UK."
Sir Albert Bore, Leader of Birmingham City Council, commented: "HSBC joins a number of global companies that want to be a part of Birmingham's accelerating growth and strong economic prospects. Birmingham is changing for the better. We are investing heavily in the city's future, with major projects including the redevelopment of Birmingham New Street station due to complete this year and other transformational schemes now underway. A local network of public and private sector partners are forming entrepreneurial partnerships, sharing ideas and implementing ambitious plans for the future of the city. We look forward to welcoming the new head office of HSBC's ring-fenced bank to Birmingham, and will continue to support and advise the bank as its plans move forward."
HSBC already has close connections with Birmingham. Midland Bank, which was founded in the city in 1836, was acquired by HSBC in 1992.