October 16, 2023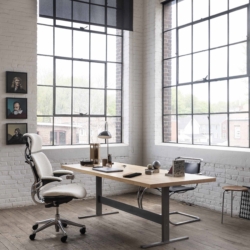 Humanscale the leading designer and manufacturer of high-performance ergonomic products introduces its global partnership through the offering of nine Kvadrat textiles– the renowned textile designer and manufacturer. The collaboration begins with Humanscale's award winning Freedom family seating solutions, available now with the partnership then expanding further across Humanscale's planet positive seating solutions, including Smart Ocean, Liberty Ocean and the Trea Chair launching in November, and further to Summa, Smart Conference and Path available early 2024.
Aligned through shared values of design innovation, longevity and sustainability, the new partnership aims to merge purposeful expression of colour, texture and pattern with an industrial design ethos born of ergonomic wellness and engineered inclusivity.
A perfect fit for both commercial and residential settings, Kvadrat's versatile upholstery collections reflect its commitment to colour, simplicity and innovation by constantly pushing the aesthetic, technological and functional properties of textiles. The textiles are made using only the best raw materials so that they last a lifetime and have the least possible impact on the environment. The seating solutions will be available in nine captivating Kvadrat textiles, giving a compelling assortment to choose from.
Introduced in 1999, Freedom is a Humanscale classic that proves that ergonomics can be beautiful. The Freedom range was designed to eliminate the need for any manual controls or knobs and levers, Freedom automatically adjusts to every user via their body weight by using the simple laws of physics. Like all Humanscale products, the Freedom was designed to function and look like new for years, creating a positive consumer and environmental impact. The Freedom collection also includes the Saddle and Pony seats – the perfect companion to the Freedom task chairs, doubling as a guest seat for in-office meetings and an ottoman for when you're ready to kick back and relax. Both seats are designed to support via a saddle shape, promoting upright and ergonomic sitting positions, aiming and encouraging movement and active sitting.
"Humanscale's collaboration with Kvadrat marks an exciting creative journey to ignite meaningful change on an industrial scale," says Todd Bracher, Creative Director of Humanscale. "Our shared values of design innovation, longevity, and sustainability make this partnership a perfect fit."
 The global partnership merges Humanscale's sophisticated ergonomics, simplicity and function with Kvadrat's expressive interplay of colour and texture invigorating hybrid work culture wherever it occurs: in today's office, at home or in third places.
"Humanscale shares values with us and both companies wish to rethink and explore how we live and work" added Anders Byriel, Kvadrat CEO "We are looking forward to developing our collaboration with Humanscale in promoting wellbeing and connectivity and building this truly global partnership."
These two companies bring together the best in their expertise's to create innovative and stylish solutions for workplaces worldwide. Merging design expressions of colour, texture and pattern with a design ethos of ergonomic wellness to energise both office and hybrid work culture. The partnership between Humanscale and Kvadrat goes beyond just product design by also promoting sustainable practises and environmental responsibility within their products and design practices.
Humanscale and Kvadrat steadfastly uphold their commitment to planet positive manufacturing and materials sourcing, minimising each manufacturers environmental footprint to leave the world better off than they have found it. Both companies are taking important steps to contain their influence on global temperature rise within 1.5°C by utilising new manufacturing systems that decrease carbon emissions from both on-and-off site fuel use. Together, Humanscale and Kvadrat are weaving a sustainable and innovative future for design.