March 12, 2021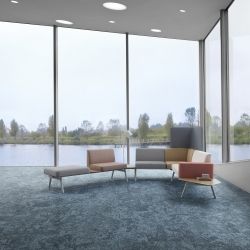 The pandemic has certainly opened our eyes to the importance of constantly washing our hands, sterilising everything in sight and realising just how far germs can travel through the air, causing us to wince at the thought of a time where we huddled on public transport without masks. However, as we contemplate heading back to the office in the near future, businesses need to translate these learnings into workplace design and move indoor air quality to the top of the agenda.
From 30th March 2020 to 16th January 2021, leading flooring solutions provider Tarkett partnered with workplace consultants WKspace to gather information for two surveys exploring the future of the workplace, each featuring 2,800 office workers (400 from the UK). The top concern across all respondents was indoor air quality. This is perhaps unsurprising, given that Harvard University researchers found that even small increases in long-term exposure to air pollution, particulate matter (PM) or fine dust, can heighten the risk of COVID-19 fatalities.
Indoor air is recorded as being two to five times more polluted than outdoor air, a very worrying statistic as on average people spend 90 per cent of their time indoors. The requirement to prioritise cleaner indoor air has never been so urgent, which has recently been acknowledged by the government's indoor air quality proposal for new offices and commercial spaces. Following these new rules, offices would need to use systems that provide 50 per cent higher rates of fresh air than the existing minimum standards.
With 47 per cent of people from the UK in the Tarkett and WKspace survey highlighting that their mental wellbeing suffered most over the pandemic, followed by 45 per cent recording motivation levels and 29 per cent revealing that the lack of work life balance took a toll, it is fair to conclude from these results that people will likely be looking forward to getting back to the normality of the office – even if it is just for a few days a week.
DESSO AirMaster
Since lockdown began there has been talk of biophilia in regards to air purification, but people may not be aware that there are also workplace products that can help to sustain cleaner air. For example Tarkett's DESSO AirMaster (main image) has been proven to be eight times more effective at capturing and retaining fine dust than smooth flooring solutions, and four times better than any other carpet.
Interior spaces should support, inspire and connect the people who use them
This result is achieved through very fine dust being captured in the fine yarns of the DESSO AirFilters™, with coarser fine dust captured in the thicker yarns of the DESSO DustCollectors™. The unique, patented structure of DESSO AirMaster prevents the dust from becoming airborne again. The fine dust and particles can be fully removed by vacuuming. The AirMaster collection, which can be fully recycled at Tarkett's own recycling centre, achieved Cradle to Cradle® certification and the GUI Gold Plus label for air quality. AirMaster is the first product in the world to have been awarded the highest possible accreditation by Gesellschaft für Umwelt- und Innenraumanalytik (GUI), Germany's leading independent air quality testing organisation.
"Our current  circumstances have accelerated the movement towards  health-promoting workplaces; however, Tarkett has been pioneering the development of flooring solutions that contribute to better indoor air quality for decades. Behind our commitment to great design is a belief that interior spaces should support, inspire and connect the people who use them, which we demonstrate through our Human-Conscious  Design™  approach. Our products exceed the strictest industry standards for air quality by so much, we have had to set our own standards. Standards that we can prove with science, not just words. It means you can breathe clearer air, knowing you made a conscious choice for your flooring. It has never been so urgent to ensure workspaces enhance employee wellbeing and health and provide them a safe space to thrive," said Mikael Persson, Segment Marketing Manager, Workplace at Tarkett.