September 8, 2020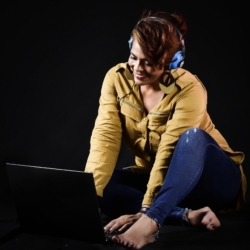 Seniority in the workplace could be directly correlated to how often you listen to music whilst you work, claims a poll of 1,000 UK office workers. The research, which was carried out by London office developer CO—RE, suggests that business owners and C-suite executives were the most likely to listen to music in their working environment.
Nearly all business owners (91 percent) and C-suite execs (885) listened to music at work, with nearly half of business owners (45 percent) doing so every day. On the other hand, almost a quarter (24 percent) of entry level workers never listen to music at work.
The survey claims that only two-in-five (40 percent) listened to communal music through office speakers, with slightly more (41 percent) listening through headphones, meaning around one in five either chose not to listen to music at work or cannot do so. This could be due to policies discouraging workers from listening to music, particularly in shared or open plan offices, as many business owners believe allowing headphones would damage morale.
"Wellbeing and environmental concerns are going to be at the very heart of what returning workers want from their offices."
Even though they listen to music at work themselves, three quarters (74 percent) of business owners and executives believe morale would suffer if everyone listened to music through headphones at work. Only 5 percent of business owners thought it would improve morale. This is despite over a third (36 percent) agreeing that their performance and productivity would suffer in some capacity if they could not listen to music at work.
Business owners and executives are now considering what the impact of the flexibility enjoyed from working from home during lockdown will have on the return to the office. Most office workers will have spent the past few months away from colleagues as they followed the Government's social distancing guidelines. This will have provided junior workers the opportunity to listen to music in a new home working environment if they wished.
Image by Omar Medina Films