October 5, 2022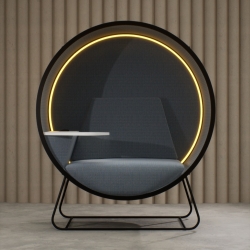 Originally a manufacturer of task seating, Connection have made a huge impression on the office interiors sector in recent years with a series of ground-breaking new products. The success of Rooms, Harp and the Resimercial collection, amongst others, led to a record financial year in 2021-22, and an acquisition by Flokk, Europe's leading manufacturer of workplace furniture. Now the firm is pioneering new ideas for the ever-changing workplace with the introduction of Kuppel.
The evolution in commercial interior design has been reflected in the recent additions to Connection's portfolio, with an emphasis placed upon products with unique aesthetics, that provide effective solutions within workplace, hospitality, and education. The firm is currently moving into a new office and factory complex to drive its growth.
The latest addition to the portfolio and inspired by the Norwegian word for 'dome', Kuppel is a personal workspace solution that enables the user to escape the distractions of the open-plan office. The soft, circular shape invokes a sense of calm and seclusion, ensuring feelings of peace and relaxation to aid physical and emotional wellbeing within a space.
Kuppel's curvature provides both an acoustic shield and reduces visual distractions, whilst the generous space inside, complete with power and a large tablet arm, promotes a prolonged dwell time, lending Kuppel perfectly to the fast-paced modern workplace.
"Kuppel offers a multi-functional space whether it is to work, take calls or relax.  The modern workplace needs to provide a space that is adaptable to the changing way we are working and Kuppel aims to do that", comments designer Jo Day, of Design and You. "Kuppel was driven by my desire to create a chair that was manufactured in the most sustainable way possible by exploring recycled materials and challenging traditional manufacturing processes. Its distinctive circular shape is the result of sourcing a UK manufactured 100% recycled tube manufactured from post-consumer waste material."