November 4, 2013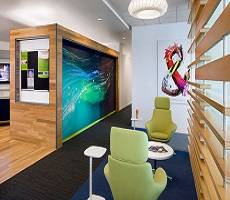 Adobe, one of the first companies to adopt the US Green Building Council's Leadership in Energy and Environmental Design (LEED) standard, is to conduct a study of its LEED certified workplaces to determine if they measurably contribute to more collaborative, creative, innovative and healthy employees. The move is part of a new Building Health Initiative launched last week by the California chapter of the USGBC. Google, Arup and Interface are amongst the founding partners, along with approximately 20 other organisations from a range of sectors. The movement aims to elevate green building as a benefit to public health as well as encourage the development of transparency standards in building materials. 
The initiative will facilitate sharing of best practices and collaboration among a coalition of commercial building owners and tenants; architects, engineers and builders; building product manufacturers; legal professionals; labour and healthcare professionals and institutions.
"This is the first time major corporations and institutions from multiple sectors have come together to publicly commit to improving human health through green building," said Dan Geiger, executive director of USGBC-NCC.
"Each partner has pledged to implement new organizational actions that have direct effects and generate awareness of how the built environment affects our well-being. This is a tremendous stimulus for the movement for healthy communities for all."
Initiative advisory board member Elizabeth Baca, M.D., M.P.A., a physician engaged in policy to improve the built environment, said: "there is a growing recognition in medicine that the built environment has significant health impacts. Physicians want to understand the underlying causes of their patients' conditions. That's why we ask, 'Where do you work, live and play?' It is imperative that the medical profession and building industries learn from one another about the health impacts of the built environment."
As part of phase one of the initiative, tech firms Genentech, Adobe,  Google and salesforce.com have pledged to develop procurement practices and processes that consider the transparency of materials used in building materials and to look into emerging standards such as Health Product Declarations (HPDs) which advocate the disclosure of product's ingredients.
Other partner pledges include creating resources for affordable housing, community outreach, researching the relationship between climate change and health, educating clients and peers about health impacts of the built environment and developing Environmental Product Declarations (EPDs).
Phase two of the initiative will be a series of educational programs and events held over the next two years, including best practice sharing and inter-disciplinary programs developed with the founding partners.
"Genentech is gratified and excited to be part of USGBC's Building Health Initiative," said Carla Boragno, vice president of site services for biotechnology firm Genentech. "As an organization committed to improve human health, we also want to promote the development of environments that contribute to the health and wellness of our employees and communities where we work."