April 22, 2016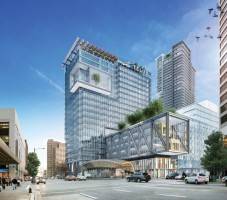 LEED certified buildings in Canada have led to a cumulative reduction of over one million tonnes of CO2e in greenhouse gas emissions – the equivalent of taking 238,377 cars off the road for a year. Along with this milestone the Canada Green Building Council (CaGBC) announced that in the first quarter of 2016 it certified the 1000th LEED Gold project in Canada. LEED Gold, the second most rigorous level of certification, now makes up 38 per cent of all LEED certified projects in Canada – the highest percentage of all levels. This is evidence of the industry's enhanced capability to achieve higher levels of building performance. Among the most notable projects that earned LEED certification in the first quarter of this year was the certified LEED Platinum TELUS Garden Office Tower in Vancouver, BC, a one million square foot development in the heart of downtown Vancouver that features one of Vancouver's largest solar panel collections on the office's rooftop.
The market penetration of LEED certified buildings in Canada has been growing over the last decade, from 0.8 per cent across all asset classes for the period of 2004-2009, to 10.7 per cent for all new construction floor space (2009 to 2014). The growth of LEED is projected to generate approximately $59.1 billion in direct dollar gross output, $25.44 billion in GDP, and create almost 330,000 direct jobs over the lifetime of the buildings.
This announcement comes as Canadian governments at all three levels are accelerating efforts to formulate climate change strategies. As the voice for green building in Canada, CaGBC supports sustainable infrastructure as one of the most practical and effective solutions to our changing climate. This is demonstrated by the GHG reduction and a number of other big impacts (calculated cumulatively between 2005 and the end of 2015) that show how green buildings have benefitted Canadians:
Energy savings of 6,503,647 eMWh which is enough to power 220,702 homes in Canada for a full year.
Water savings totalling 12.8 billion litres, the equivalent of 5,131 Olympic-sized swimming pools.
Recycling over 1.6 million tonnes of construction/demolition waste which represents 491,174 garbage truck loads.
Installing 231,608 sq. metres of green roofs, or an area the size of 153 NHL hockey rinks, to reduce the urban heat island effect and mitigate storm water flows in urban areas.
"The CaGBC, its members and stakeholders, have been working for the past 14 years to mitigate the effects of climate change through green buildings and sustainable communities," says Thomas Mueller, President and CEO of the Canada Green Building Council.
"These two milestones are a tribute to the efforts of the Canadian green building industry who have been at the forefront of the push toward a low-carbon economy. Owners and developers, practitioners and builders didn't wait to take action but have led the charge toward maximizing the environmental and health benefits of building projects across the country. We are encouraged to see such strong results and look forward to continuing our work with the public and private sectors to ensure this momentum continues."
Overall, LEED certifications in Canada continued to have steady growth in the first three months of the year, with 106 registrations and 91 certifications – bringing the total number of LEED certified projects in Canada to 2,675.
A searchable LEED project database with further detail on all LEED certified projects, including project scorecards and photos, can be viewed on the CaGBC LEED Project Profiles webpage.