October 13, 2016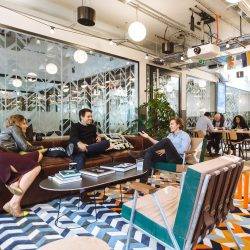 Think Tank New London Architecture (NLA) which creates a forum for debate on the built environment, has launched its findings and recommendations from its landmark WRK / LDN Insight study on work and workplaces in London. NLA calls on central government, the Mayor of London and other stakeholders in the capital to act to maintain the capital's position as a preeminent commercial centre. The report claims that, as the digital economy continues to expand, new suppliers of workspace are rapidly emerging – from co-working providers to 'fab labs', makerspaces, incubators and innovation centres. The insight study concludes that the affordable business space that currently supports these industries is at risk. London needs new innovative mixed-use models of city planning to support these changes and adapt to the changing world of work.
Following the UK's recent decision to leave the European Union, London's ability to attract and retain the best global talent has become even more important. As a result, the availability, affordability and quality of workplaces in the capital is critical, according to the study. Space for commercial and industrial uses are under threat as the demand for housing pushes up land prices, and planning policies currently favour conversion of offices to residential use.
The report concludes London therefore needs a stronger city-wide strategy and leadership to protect existing commercial and industrial sites, whilst ensuring the sufficient creation of new workspaces to meet demand. To underpin this, the key findings and recommendations call upon government, the Mayor of London and public bodies to:
Prioritise the improvement of London's digital connectivity to create a more flexible, networked city
Encourage flexible and adaptable building stock to accommodate varying and changing requirements
Create a series of super-connected mixed-use hubs around public transport links to invigorate London's towns
Expand exemptions to permitted development rights to protect London's designated industrial and commercial land and spaces in the right places
Review London's use classes to enable a broader mix of uses to co-locate, including making and manufacture alongside residential and commercial uses
Pilot schemes for new design-led industrial developments, including small-scale manufacturing and digital fabrication
Make provision for affordable workspace a key part of planning policy
Promote the wellbeing agenda by supporting design and development that actively seeks to promote physical activity and mental wellbeing
Plan for a multi-generational or '4G' workforce

NLA conducted the research in an attempt to uncover the most innovative workspace initiatives and projects in the capital, highlight key trends and emerging businesses locations, and analyse the types of buildings and spaces London will need to provide to meet future demands.
Areas of focus for the study range from protecting London's industrial land and uses to integrating workspaces with transport infrastructure, as well as exploring how new types of buildings that integrate living, working, making, manufacturing and/or leisure, replicating large-scale mixed use schemes that are increasingly popular in global cities. As land costs remain high in London, the need to accommodate more uses in less space calls for greater density and intensification of development.
The research has brought together a variety of different workspace developers such as British Land and SEGRO, architects including John Robertson Architects and Orms, consultants and agents such as Cushman & Wakefield, and engineers including AECOM and Colorminium through industry roundtables, interviews and project reviews.
Peter Murray, Chairman of New London Architecture, commented: "The ways we work, and the places in which we work, have evolved dramatically over the last decade.  This landmark report highlights how the provision and protection of London's workplaces must evolve to meet the changing demands of contemporary business. As the Mayor considers the contents of his next London Plan, he must ensure that London becomes smarter as a City in its supply of data, in its digital capacity and its ability to adapt with buildings flexible enough to absorb radical new ways of working."
Alan Holland, Business Unit Director for Greater London at SEGRO, commented: "We support the NLA's call for a more joined up approach to London's future provision of industrial and logistic space.  The WRK/ LDN study resonates with SEGRO's own independent research, principally in relation to the need to protect London's supply of light industrial and urban logistics space. Since 2001, 1,305 ha of industrial land has been released to non-industrial use and this rate of loss is accelerating. Continuing low vacancy rates, together with structural changes in consumer behaviours has led to occupiers seeking to modernise their supply chains, particularly in the area of last mile delivery, and we expect this trend to continue."
Festus Moffat, Director at John Robertson Architects, commented: "London's greatest strength is it connections, socially, digitally and physically and for the majority of Londoners commuting is significant part of our work life. We believe that the next version of the London Plan puts an emphasis on the development of transport nodes and the areas around them to provide London with a connected future."
The exhibition, WRK / LDN, will open at NLA in The Building Centre in Bloomsbury today, 13 October. Exploring the issues facing London workers, and highlighting the future areas for growth across the capital, the exhibition creates a pop-up working space and showcases future growth areas and current exemplar schemes, as well as providing additional recommendations for how we should secure the future of London's economy. A programme of related events will run until mid-December, debating the key themes to come out of the insight study.
Images: WeWork (top) and Assael Architecture