May 21, 2019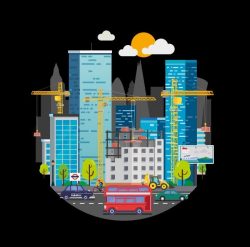 New office building in central London is at a three-year high, with 13.2 million square feet of space under construction, up 12 percent on the figure six months ago, according to the Deloitte Real Estate's London Office Crane Survey. Some 55 percent of the office space under construction was already let and for larger schemes of over 100,000 square feet, more than three quarters was already committed to, Deloitte said. The survey covers seven major central London office markets – The City, West End, Docklands, King's Cross, Midtown, Paddington, Southbank – as well as three emerging submarkets – Vauxhall-Nine Elms-Battersea, White City and Stratford.
Deloitte said leasing activity in the first quarter of 2019 had notably reduced, suggesting occupiers and investors were delaying their decisions in the run-up to Brexit. However, the majority, or 56 per cent, of landlords told Deloitte that compared with the previous six months they saw no change in leasing demand.
"London's office market remains resilient in the face of uncertainty as we witness an encouraging increase in new construction starts," said Mike Cracknell, director at Deloitte Real Estate."This is testament to developers' continued confidence in London's office leasing market long-term. Notably occupiers in the financial services sector have pre-let 2.1 million square feet of space that is still under construction. This is a 50 percent increase in six months and suggests there is confidence the sector remains committed to London."
In November's survey, Deloitte had said demand would continue even with the impending exit of Britain from the European Union, with technology, media and telecom companies taking up most spaces in the city. Nearly 300 financial firms in London have shifted about a trillion pounds in assets to new hubs in the EU to mitigate the uncertainty and avoid disruption to customer ties. A separate Deloitte survey claims that one in three of the 3.4 million non-British workers in the UK are considering leaving the country over the next five years.