July 22, 2020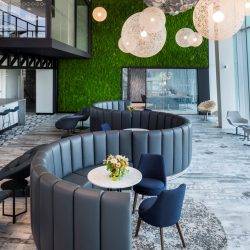 New statistics released by workspace provider The Argyll Club suggest that the main concern for London's businesses post lockdown is whether employees can get to and from work safely. Also, in an encouraging sign for the City's office market, 50 percent of businesses are already making enquiries into larger office space.
Collating data from client enquiries since May, The Argyll Club claims that, while 50 percent of clients were looking for a larger space, 80 percent were seeking showers and bike racks, and 60 percent were on the hunt for easy car parking. With Mayor Sadiq Khan's StreetSpace initiative opening up London's byways for more cyclists, businesses are apparently taking advantage and listening to their employees' desires.
In addition, 80 percent of clients requested extensive cleaning regimes and 35 percent sought a workspace with an outdoor area – but further statistics showed that businesses were also looking to shorten or remove the commute entirely. Since May, there has been a 10 percent increase in demand for offices in Belgravia and Knightsbridge, as Londoners seek a place to work closer to the suburbs in the South West.
Priorities are pivoting, the report claims. Before, businesses tended to focus on maximum desk density and communal breakout spaces when selecting a workspace; now, larger offices that support social distancing must be combined with an easy access route that doesn't rely on public transport and its associated risks. As lockdown eases, many businesses are first focusing on providing safe travel to the office, rather than encouraging employees to return regardless of their commute.
Image: Nova North designed by Area.