September 5, 2016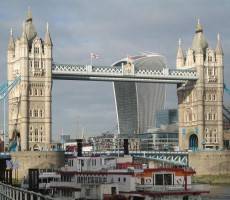 Most Londoners think tall buildings should only be built in areas like the City and Canary Wharf, and that there should be limits on how high they can be, according to an IPSOS Mori survey carried out on behalf of the Skyline Campaign. The findings come after Westminster Council controversially gave the green light for a 30 storey tower to be built in Paddington, and show stark differences in the views of Londoners in the inner and outer boroughs about how this new generation of tall buildings is affecting the Capital. The survey of more than 500 Londoners finds almost half (49 percent) of residents of inner London boroughs think that the 270 tall buildings planned, proposed, or under construction in London is too many. This contrasts with 34 percent of people in outer boroughs who say the same. Latest data released after the research was conducted indicates more than 400 new tall buildings are planned, proposed or under construction.
People in inner London are also more likely to say they are worried about how many tall buildings are being built – 43 percent say this compared to 33 percent of outer London residents. They are more concerned that tall buildings are damaging what makes London special (43 percent say this) and less likely than outer London residents to think they make a valuable contribution to the Capital's vibrancy and skyline.
Additionally, the study finds Londoners are unconvinced about the role of tall buildings in meeting the Capital's housing needs; terraced houses (24 percent) and low-rise purpose built flats (21 percent) are thought to be the most suitable buildings to meet the needs of Londoners. Just 8 percent say purpose built high-rise blocks (of 20 storeys or more) are what's needed, although this is higher among inner London residents (11 percent). Although people in inner London are most cynical about who benefits from tall developments with 60 percent saying they are mainly for wealthy foreigners, with 46 percent of outer London residents saying the same.
There is greater consensus among inner and outer London residents when it comes to how new developments should be regulated. A majority (59 percent) of all Londoners support controls on the number of very tall buildings (with 50 or more floors) which can be built, and the same proportion (59 percent) think limits should be imposed on the height of new developments – contrasted with one in six (16 percent) saying there should be no limit on the height of potential new buildings. Over half (56 percent) think tall buildings should only be permitted in particular areas such as the City or Canary Wharf.
When asked what attributes should influence planning decisions on new developments, nearly one in three should say it's important the building looks right in its surroundings (28 percent) and is well designed (27 percent). The single most important attribute is whether it provides affordable housing, particularly among inner city respondents (59 percent of whom agree this should be given high priority.)
Overwhelmingly, however, Londoners agree they should be consulted more on proposals for new buildings, with 73 percent agreeing or strongly agreeing with this. Many Londoners could even change how they vote based on the issue- some 27 percent say they would be less likely to vote for a political candidate who supports a new tall building development in their area. When thinking specifically about the upcoming London mayoral election in May, 31 percent would be less favourable to a politician who supported building more tall buildings in London. Inner city voters are more likely to vote with their feet, with 42 percent saying this would cause them to view a candidate less favourably.
Ben Page, chief executive, Ipsos MORI, said: "This and other recent surveys show a clear desire for more control on the height of new buildings in London, and a concern that new towers are mostly for wealthy foreigners, and do not provide affordable housing."