July 8, 2019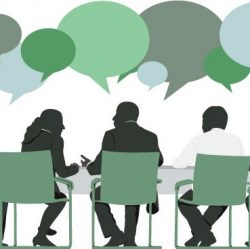 A report from Moo claims that people are wasting time by waiting for all attendees to arrive at or dial-in to meetings. Engaging in small talk with colleagues and tackling technology followed closely behind. The findings include the claims that nearly half of British workers spend up to ten minutes trying to find a meeting room on average, and around the same number spend up to 15 minutes waiting for other attendees to arrive or dial-in.
The top five reasons for time wasting during a meeting are:
1. Waiting for people to arrive
2. Small talk
3. Setting up technology
4. Locating the meeting room
5. Introductions
Choosing where to sit also posed problems for some professionals with 38 per cent claiming to spend at least five minutes of their one-hour meeting considering the best position. A third (34 per cent) also said they can spend up to ten minutes discussing and adjusting the temperature of a meeting room before they are ready to start.
The number of distractions in meetings has also increased with nine per cent admitting to spending between 10 and 20 minutes checking their phone for personal messages, and the same amount not being able to switch off from their work emails during an hour-long meeting.
The number of meetings we're expected to attend on a daily basis also presents challenges to productivity, with 63 per cent of Brits attending at least one meeting a day and a third (36 per cent) attending between two and four.
And while ten per cent admit to spending between nine and 14 hours per week in meetings, this varies wildly across professions. Those working in human resources spend an average of six hours of their working week in meetings, while retail, catering and leisure workers spend almost half this amount (3.6 hours) during an average week.
The self-employed suffer the most when it comes to time lost to meetings, spending an average of more than five hours per week on them in comparison to smaller companies* who only spend 2.3 hours of their typical working week in meetings.