March 28, 2023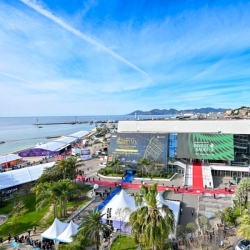 MIPIM may have returned last year, but 2023 was the year it felt back. That was despite widespread concerns over the rising costs of refinancing and a banking crisis that started with the collapse of Silicon Valley Bank in the US and quickly moved to Europe, with Swiss financial regulators beginning to put together during MIPIM week the deal that would see UBS buy Credit Suisse in an emergency rescue.
The pause button had already been hit on most commercial real estate investment by the time of MIPIM and many of the major institutional investors and global advisors cited the impasse between asking price and true valuation as the main stumbling block. And they pointed to those markets – notably the UK – which had bitten the bullet and repriced as those most likely to experience a quick rebound
CBRE's managing director of Continental Europe, Marco Hekman, picked out the UK, the Netherlands, Germany and Sweden as among those markets to have been fastest to correct, with pricing off around 20%-30% from their peak. "It's not just about taking the pain, it's about the truth," he said.
It's not just about taking the pain, it's about the truth
Commerz Real CEO Henning Koch added that the creative mixing of uses would be necessary in order to reinvigorate central business districts and pointed to the decline in footfall in urban centres as people continue hybrid working.
Koch said that offices need to be configured with more amenities and facilities and that real estate mixes need to be more imaginative in order to reactivate spaces, including more focus on wellbeing and health. He also predicted that there would be a significant shift from new-build to retrofit and refurbishment.
One key element of this is sustainability, a core topic at MIPIM, across the conference programme, through the new Net Zero zone and with many delegates discussing ESG in terms of investment, development, design and the increasing shift towards re-use.
Indeed, repurposing was a central theme and M&G Real Estate head of investment strategy Jose Pellicer put the cat among the pigeons when he speculated that the UK commercial real estate market had "reached peak office", with the future of investment in commercial real estate to be focused on "quality not quantity", during a London Stand panel session.
"We have made a big bet on investing in better quality but fewer offices. Our criteria going forwards is to invest in office spaces that have been designed to allow people to meet and collaborate and they must also be on the path to net zero," he said of M&G's approach.
The retrofit challenge
Global head of AXA IM Alts, Isabella Scemama, added that one of the biggest challenges will be retrofitting buildings as she warned that the focus must be on "making buildings more efficient", not just monitoring and collecting data. "It's going to need some rethinking around the way we design cities and, in some markets, that might mean more emphasis on decentralisation and growing smaller cities," she added.
Amber Luscombe, senior development manager, Oxygen adds that retrofit alone will not achieve the targets and says the picture is much bigger and more intricately woven into every aspect of the industry, "from how two pieces of timber are joined on site to how a masterplan is developed at macro level".
Equally, she says that there are cases where new build is a better proposition.
We absolutely cannot be doing a 'business as usual' new build
"But the question is how we do new build? We absolutely cannot be doing a 'business as usual' new build," Luscombe warns. "I believe we should always retrofit first, but each building needs to be assessed on a detailed case-by-case basis, and a strong case needs to be put forward to demonstrate that keeping a poorly performing, inefficient building would require more carbon and more material to ensure it works is the better proposal, rather than demolishing carefully, reusing where possible and building back better."
Indeed, the sustainability agenda has remained robust despite the economic challenges, with any concerns that economic imperatives might knock environmental issues off the priority list seemingly unfounded. To that end, PGIM Real Estate Germany Christine Fritz stressed that despite the economy and the war in Ukraine, ESG priorities have not been deflected.
"In fact we've realised the opposite is true," she said of the sentiment in Germany. "We're hearing that from out investors and our peers in the market."
Little surprise then that Germany was also host to some of the most innovative sustainable building projects showcased at MIPIM, including LaSalle Investment Management's development of Munich's first hybrid timber office building, in collaboration with Accumulata Real Estate Group, on behalf of Encore+, LaSalle's flagship pan-European fund.
Situated on Elsenheimerstrasse in the city's West End district, the office building will have a floor area of approximately 16,000 sq m and scheduled for completion during the first quarter of 2024.
Designed by Munich-based architect Oliv Architekten, the project will be constructed using concrete reclaimed from the existing building. All materials used in construction will be documented in a material passport, showing where and how the various components were sourced and installed, ensuring they can be repurposed at the end of their service life.
"Its design in accordance with circular economy principles and resource-conserving operation will serve as a benchmark in sustainable real estate," said David Ironside, fund manager of Encore+ at LaSalle Investment Management.
The mood at MIPIM suggested we can expect to see more such initiatives. Anna Kulik, founder and CEO at Hepp, had helped steer the sustainability agenda at MIPIM acting as their Head of ESG & Impact , and she said she was encouraged by attendance and response to the sessions.
"The sessions were really well attended, which was very positive. For me, one of the issues is that the separate strands of ESG have been conflated and I think as we go forwards they will be considered very differently," said Kulik. "The 'E' will perhaps be quantitative while the 'S' and 'G' are more likely to be qualitative."
Kulik believes that the real estate industry has moved forwards and that the discussions and actions are becoming more detailed and purposeful. "I left MIPIM feeling more optimistic. The important thing now is for those companies to look deep into the issues and challenges and for a clearer direction of travel to emerge."
With much talk of investors cautious of being left with unsustainable 'stranded assets' should they not have a clear net zero path, the road to MIPIM appeared greener than ever.