November 20, 2023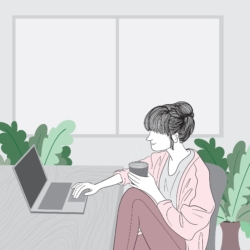 The latest findings from the CIPD's report Menstruation and support at work, which surveyed more than 2,000 women, found that more than two thirds (69 percent) of women have a negative experience at work because of their menstruation symptoms. In response, the CIPD is calling on organisations to create awareness, tackle the stigma associated with menstruation and train managers to be confident, comfortable and inclusive when talking to employees about menstrual health.
The most common symptoms reported include abdominal cramps (60 percent), irritability (52 percent), fatigue (49 percent) and bloating (49 percent) but there are a wide range of symptoms experienced. Of those who experienced symptoms, four-fifths (61 percent) said they had worked when they didn't feel well enough to, and one in five (20 percent) took sick leave.
The report findings make it clear that some menstruation symptoms can have a serious and negative impact on the careers of those who experience it. In fact:
63 percent felt less able to concentrate
Half (50 percent) felt an increased amount of stress
49 percent felt less patient with colleagues or clients
38 percent said they felt less confident at work
As well as the more common symptoms of menstruation, 15 percent of women said they also had a menstrual health condition such as polycystic ovary syndrome (PCOS), premenstrual dysphoric disorder (PMDD) or endometriosis. Of the employees who have a formal diagnosis of such a condition, 81 percent said that menstruation symptoms have had a negative impact on them at work.
The report also highlights that, despite 53 percent of women surveyed being unable to attend work at some point in their career because of menstruation symptoms, nearly half (49 percent) said they never tell their manager the absence is related to their menstrual cycle.
Sadly, when asked why they didn't feel able to say why they were not able to go into work, the report finds that 45 percent of women felt that the problem would be trivialized and 43 percent felt embarrassed.
According to the survey, just one in ten (12 percent) women say that their organisation provides support for menstruation and menstrual health conditions. The report shows that employees experiencing menstruation symptoms would value a range of support from employers with free period products, paid time off for medical appointments and paid sick leave being the three top-rated opportunities.
Claire McCartney, Senior Resourcing and Inclusion Adviser at the CIPD said:  "Our latest report on menstruation and support at work underscores the need for a more empathetic and understanding working environment. Menstruation is a natural part of many employees' lives, and it shouldn't be a barrier to success or well-being.
"Employers can greatly improve the working lives of employees who experience menstruation symptoms by creating inclusive, supportive work environments and training managers to have a better understanding of the impact it can have. A lot can be done without huge cost to businesses including the adoption of more flexible working practices and signposting to external resources."