October 4, 2016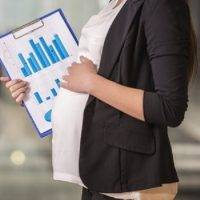 Recent research by the Commons Women and Equalities Committee suggests that around 54,000 expectant and new mothers have no choice but to leave work due to pregnancy discrimination or concerns over the safety of their children; and shockingly, this figure has doubled in the last decade alone.  Other research carried out by the Equality & Human Rights Commission (EHRC) and the former Department for Business, Innovation and Skills shows that despite 77 percent of working mothers reporting potentially discriminatory or negative experiences, only 28 percent raised the issue with their employer, and less than 1 percent pursued a claim through the tribunal system.  As a mother of two young children, this is a topic very close to my heart. I have worked in HR for over 18 years now, and advised on all manner of employee relations issues and know from personal experience that being pregnant and suffering discrimination or redundancy is not at all unusual.
Little did I know that when I announced my pregnancy to my boss in a company I once worked for, (and my HR colleague announced hers a few weeks later) that this would set in motion a 'restructure' for the whole team.
One minute, life was great and I was being congratulated by the Board (the MD even gave me a pregnancy calendar which had useful 'titbits' on what to expect week by week) and the next, I was heavily pregnant and at 'risk' of losing my job!  I remember being angry and frustrated that pregnancy had led to this – how could this be right? Despite it being a stressful few months, thankfully for my team, it all worked out well and being made redundant was actually a good opportunity for me in the end.
However, it doesn't always end well. Several women I know have suffered awful discrimination and harassment in their workplaces.  Horror stories of being called 'a fat cow' (and not in a 'tongue in cheek' way) by senior management in front of colleagues; being offered a promotion only for that to be rescinded once pregnancy was confirmed; being 'banned' from discussing pregnancy or children at work because it made the boss feel 'uncomfortable'; having a job offer withdrawn after telling the employer about the pregnancy and then being told 'a mistake' had been made and there were already too many people in the same job.  Another friend was told the promotion she had worked towards was no longer hers because it could not be undertaken part time – she was not even planning to return on reduced hours.
Baby bonus or pregnancy penalty?
These are just some of the tales from people I know – nationwide the picture is no different.  Expecting a new baby is already a stressful time – physically, emotionally and financially so fear of discrimination and harassment in the workplace is the last thing new mums need.
The research highlighted that the cost of pursuing a tribunal claim; fear of negative repercussions at work; not fully understanding their rights; stress and tiredness were all reasons why mums would rather leave work than take action.  Statistics further suggest that since the introduction of employment tribunal fees, pregnancy related cases have fallen by 50 percent.  Given that 'protection against unfair treatment, discrimination or dismissal' is a legal right of pregnant employees, this just isn't right.
The CIPD has confirmed its stance on the stats: Laura Harrison, People and Strategy Director at the CIPD said:
"It's inexcusable that discrimination against pregnant women at work is still a problem in the UK. Besides the damage this discrimination causes to women's self-confidence and earnings potential, there's a resultant loss of value for employers – not just in terms of talent but possibly also of the engagement of women. Who wants to give 100% when their commitment to work or value in the workplace is being questioned? That's hardly a fair deal…We know the economy will only reach its potential when it builds and sustains opportunities for women to be as economically active as men."
So what is the Government doing about it?
Not enough according to the EHRC!  The Commission is calling for the Government to:
take more effective steps to prevent employers asking during the recruitment process about a woman's pregnancy or her intention to have children
make changes to the employment tribunal fee system to ensure that fees are not a barrier to accessing justice for pregnant women and new mothers
consider increasing the time limit for a woman to bring an employment tribunal case involving pregnancy and maternity discrimination from the current three months to a six months
increase protection from redundancy so that new and expectant mothers can be made redundant only in specified circumstances: and
extend maternity-related rights to casual, agency and zero hours workers.
What about employers?
Some employers are already taking a stance against discrimination.  Just earlier this month, an alliance to end pregnancy and maternity discrimination was formed by some of the UK's biggest businesses.
The 'Working Forward – supporting pregnancy and maternity rights' alliance aims to show employers how to attract, develop and retain women at work.  The founding members of the alliance include Barclays, Royal Mail, Ford, John Lewis Partnership, Mitie and Transport for London amongst other big names.
The aim is to encourage businesses in their supply chains to sign up to the alliance and proactively make their workplace environments the best they can be for pregnant women and new mums.
Practices will include having a gender equality champion at board level; training and supporting line managers; and encouraging family friendly policies, through flexible working options in all possible roles.
What about employers not in this 'alliance'?
Regardless of what the Government pushes through Parliament, every employer needs to be alert to discrimination risks, right from the time a woman makes her pregnancy known.  This would also allow any such problems to be managed early on. But this isn't just how well line managers are trained in people management skills or how HR communicates good family friendly practices – organisations need to foster an inclusive, supportive culture that encourages and welcomes diversity – and this has to come from the top.
My story thankfully ended well.  My second time was a much better experience all round – International Workplace supported me throughout my pregnancy and my 12 months off.  I still felt part of the team – I knew what was happening with colleagues and the business.  I went back to work missing my little one, but committed and raring to give my best – it's amazing what a little care and support can do for your attitude!
________________________

Tarvinder Tumber is an HR Consultant at International Workplace. She is a Chartered Member of the CIPD and a Member of the British Psychological Society with over 18 years' experience working in HR.