July 21, 2015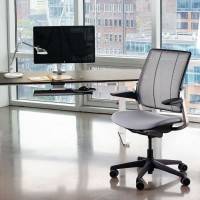 We live in the Global Village, Marshall McLuhan's idea from 1962 of an electronically contracted world in which attitudes, cultures and our political, business and legislative framework begin to pull together. Yet each nation is shaped by little differences. That is why the comedy programme The Office found an audience on both sides of the pond, but one that needed Wernham Hogg in Slough to become Dunder Mifflin in Scranton, Pennsylvania for it to work for the local audience. The central idea of the show has a universal appeal but needs a local voice. And what is true for The Office with a big O is also true for the office with a small o. This was the takeaway conclusion of a series of events staged in London and Manchester last week by Milliken and Humanscale. The touchstone for these events was a debate about the main conclusions of of June's Neocon.
For those who do not know, Neocon is the giant North American showcase of all things office interiors which attracts tens of thousands of visitors and exhibitors to Chicago each year to uncover the latest thinking in office design and management. The discussions were led by Rob Kirkbride of the US based trade journal Monday Morning  Quarterback and Mark Eltringham of the UK's Workplace Insight.
What became apparent is that the forces that drive the latest trends in workplace thinking are truly global, but that they are reshaped by local cultures and legislation that mean their results can be somewhat different. Here are the four most important trends in workplace design and management identified at the events.
Empowerment and responsiveness
As firms increasingly reject the command and control structures that manifest themselves most obviously in the predominance of open plan offices, so too must they hand over control of work settings to the individuals who work for them. So NeoCon showcased a number of products that typified the empowered workplace including what Rob Kirkbride described as the most important product at this year's show, the Steelcase Brody system. This product provides a private workspace with an inbuilt ergonomic seat.
Similarly, there was a move to integrate more technology into furniture to signal to workers that the tables and chairs they use are tools in exactly the same way as their devices. This is most apparent in the way tech is being used with the much talked about new generation of sit-stand workstations to encourage people to move more, exemplified in Humanscale's own OfficeIQ system (top) and the new Stir desk.
Empowerment is also evident in the overall way that offices are now designed with workers offered the choice about where they go depending on their own personal preferences, what they are doing and with whom they are working. This idea underpins many of the show's most important new ideas including the development of room booking technology that works alongside office furniture elements, the use of private work booths and the new aesthetic of the dispersed workplace.
Wellbeing and wellness
This appears to be an evolution of the debate about the links between office design and productivity. If so, it is a far more nuanced and sophisticated proposition. Some old favourite themes were apparent at NeoCon including the need to maintain acoustic and visual privacy. Firms like Buzzispace have transformed this debate with their innovative solutions but this is not just an issue with designed solutions. Technology plays a role here too as the Intelligent Divisio Screen demonstrated with its projected display to inform people when a workstation is about to become free as well as a traffic light system that informs them of whether the person who currently calls it home is available for a chat or not.
In the US, of course, the debate about wellness has a legislative edge because employers are keen to address the wellbeing of staff to keep their health insurance premiums down as well as for more altruistic reasons.
It is the sit-stand desk that is the poster child of this approach, of course, but the theme was manifest in other ways throughout the show especially in the way firms now talk about how the democratisation of space and empowerment of individuals is good for their psychological and mental wellbeing as well as their physical health.
The urbanisation and domestication of space
As work has unshackled from the corporate environment, a strange reverse process has developed which means the office is absorbing the forms and functions of the spaces we have colonised with our work devices. This blurring of the boundaries does not only mean that we now work routinely at home and in coffee shops, parks and hotels but also that corporate headquarters now increasingly resemble those spaces.
The best example of this at NeoCon was Herman Miller's much talked about Living Office product but it was evident throughout the show. It is no longer possible to pigeonhole products in the way we once did because most firms and people don't care about the old delineations and are happy to work wherever is best for them. If that includes an armchair or a picnic bench, then that's fine.
Rob also highlighted how a traditionally domestic furniture retailer called West Elm is a good example of how a residential sensibility is making its way into the workplace. It would perhaps have once been unthinkable that such a firm could make the crossover into the corporate office furniture domain, but as we have seen with Ikea in Europe, the blurring of the boundaries has now made that a very real possibility.
This principle is even influencing the colours we use in the office. A much broader colour palette is now deemed appropriate in work settings, with monotones and neutral blues and greys replaced by something more vibrant.
Sustainability
This is now something of a difficult area, because so few firms now talk about it as a subject at exhibitions. This doesn't mean that it isn't important to suppliers, specifiers and end users but that it is no longer the factor it once was in making a firm stand out from a less progressive herd. There was a deal of speculation at the Milliken – Humanscale debates that this is because it taken as a given that firms meet a very high standard of excellence in their sustainability credentials these days.
There is obviously a challenge therefore to move the debate on and there are already signs that this is happening, not least with the way the Green Building Council is creating a new narrative that links sustainable design to what is arguably the most important workplace theme in the developed world; wellbeing. This is typical of the interrelatedness of all of the great ideas currently shaping the new workplace around the world.