April 28, 2014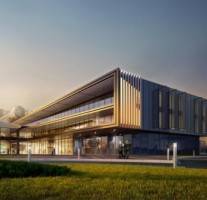 Building work has begun on the new 17,000 sq. m. European Research & Development Headquarters for Petronas Lubricants, the global lubricants manufacturing and marketing arm of Petronas, the Malaysian oil and gas company. The building has been designed by architecture, urbanism and design practice Broadway Malyan. The office – located in Santena, just outside Turin, Italy – is part of a major investment into Petronas' overall research capability and will be home to a community of several hundred scientists, researchers and new product developers. It is expected to play an important role in supporting Petronas' development and refinement of fuels and lubricants with a particular emphasis on an office design that encourages collaborative work.
The designers say the building takes its design cues from the local Alpine landscape. A key challenge in the brief was to create a space that encouraged greater cooperation and collaboration between Petronas' scientists and other office staff.  Broadway Malyan's solution was to establish a central hub space which would draw people together and directly encourage greater staff interaction.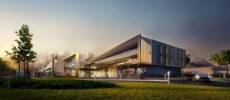 David Anderson, Director at Broadway Malyan, said: "The client wanted to use design to help change the culture of the organisation and our experts' approach does exactly that. The central hub space and the configuration of laboratory and office space leading off it ensure that the building has a real sense of energy and opportunity. By working in close partnership with the client on the project, people will come together as never before and that will directly benefit the important work that will take place here."
Broadway Malyan was commissioned to assist in brief development for the laboratories, offices and workshops areas, provide concept design and take the project through the planning application stage.
Several of the laboratory spaces have been designed to enable engines to run for long periods of time and under close monitoring with the detailed results to be scrutinised by Petronas and its engine partners.
Technically, the building had some complex challenges in terms of the specifications needed to support engines and fuels running under test conditions. The building is also designed to facilitate visits by the many people expected to view and participate in the overall research and testing processes. The design creates a route to help visitors navigate the building while allowing for engineers to work uninterrupted. The main arrival hub also features a museum with examples of Petronas' work.
In a final aspect of the 'design for collaboration' approach, the building's design also positions the staff canteen directly off the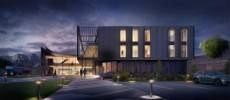 main hub so that these spaces support interaction and knowledge share. The Alps can be seen in the distance from both the canteen and the hub.
The main building form is designed to satisfy rigorous LEED certification requirements, to reduce heat gain, improve ventilation and air quality within the building and ensure well-lit office and lab spaces within the state-of-the-art facilities.