June 5, 2020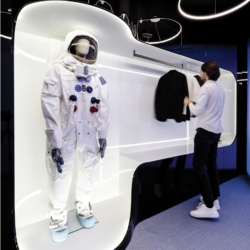 The partial return to the physical world of work means that the print edition of the June 2020 issue of IN Magazine is now being mailed out. It has been available for a couple of weeks as a digital edition and it's full of great stuff on the work topics that matter more than ever. We would say that but you can judge for yourself.
Highlights include Kate Usher in conversation with Sally Gunnell on the challenges facing women in the second phase of  their lives, Toby Benzecry mapping organisational culture on to the physical and digital workplace, Debra Hill's exploration of the stellar installation of Nordea's Control Centre in Warsaw, Peter Löffler on the way digital twin technology will transform the way we design, construct and occupy buildings, Giuseppe Boscherini on the role of personality in working culture, Ian Ellison rediscovering a building that was ramshackle but a great place to work, our series of podcasts on wellbeing and a wry look at the intrusion of Zoom and similar tools into our homes.
There's also plenty of video and audio linked in the stories.
A full list of contents from this issue of IN Magazine is below. If you don't already you can subscribe for future issues and regular news here.
[nbz-inline-newsletter]
Contents
Starters
Heads and shoulders
The current crisis is catalysing existing workplace ideas
Viewfinder
Distancing in smart cities. And why are autonomous vehicles so boxy?
Unshackling innovation
Innovation demands firms look outwards, writes Henry Chesbrough
Habits forming
We will need to be creative to get out of this, says Tim Oldman
Mains
Second phase
Sally Gunnell and Kate Usher discuss the challenges facing women in the second halves of their lives and the positive steps they can take
Perpetual beta
The evolution of the workplace has always driven innovation in furniture design, writes Grant Gibson. So where does it go next?
Personality goes a long way
For too long the office has been focussed on the bricks and mortar rather than people. Time to change that, writes Giuseppe Boscherini
Club culture
Aligning workplace design with a culture is one of the greatest challenges that face organisations and designers, writes Toby Benzecry
Fusion power
The new global control centre of Nordea Bank in Warsaw is inspired by science fiction. But it retains its humanity, finds Debra Hills
Soul mining
It wasn't much to look at, but the MIT 20 Building turned out to be a magical incubator for the people who worked there, writes Ian Ellison
Twin speaks
Digital twin technology will transform the way we design and manage buildings and space, argues Peter Löffler
Open windows
Accepting new ideas may mean we have to embrace heresy
Mind mapping
How we orientate ourselves in a space affects our thoughts and behaviour, writes Andrew Brown
Desserts
Wellbeing matters
Our podcast series on the various facets of wellbeing
Products
Our regular round up of new products and services
Object – Zoom
We may have all adopted online meeting technology in record time, but we're still adjusting to its intrusion into our homes