February 10, 2021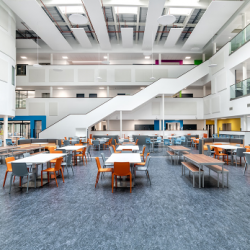 Opening its doors in late 2020, The Inverurie Community Campus in Aberdeenshire is a new £55m facility. One of the largest school constructions in Scotland, its 360 rooms accommodate 1,600 pupils and provides amenities such as a youth café, a community centre, and a swimming pool for students and the wider community.
Hub North Scotland and Aberdeenshire Council commissioned architects Halliday Fraser Munro to design the building to replace the former Inverurie Academy, community centre and swimming pool. The new facilities also provide a new home for St Andrew's School for children with complex additional support needs.
As part of their extensive bespoke furniture, fixtures, and equipment (FF&E) package, Deanestor specified a wide variety of KI seating to meet the contemporary design and overall needs of the school.
Ramsay McDonald, managing director of Deanestor Scotland comments: "KI's education seating has an excellent reputation for durability, quality and value for money which made it an obvious choice for such a landmark project and a demanding education environment. The Postura+ chair should serve the school community well for the long term, providing comfortable and flexible seating ready for ever-evolving learning models, now and in the future."
The iconic Postura+ chair is used throughout the school's classrooms. The Postura+ high chairs accompany poseur-height tables in the cafeteria, and Postura+ stools are located in the science laboratories. The colours chosen across the Postura+ range include Sugar Plum, Lime Zest, Slate Grey, and Aqua Blue.
These Postura+ chairs were chosen for their ergonomic design and renowned durability. Easy to clean, stain-resistant, and light, they are ideal for the school's modern learning environments that require flexibility and user reconfiguration.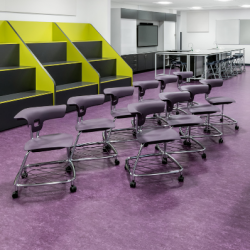 A selection of KI's other seating ranges were also selected, including the award-winning Ruckus chair. These innovative chairs encourage movement and collaboration, allowing students to redirect their attention quickly and easily. The integrated storage rack under the seat provides a convenient place to keep bags, books and other materials close at hand.
Mark Mitchell, Learning Estates Programme Manager for Aberdeenshire Council who played a key role in the project commented: "We wanted to provide students with the facilities to learn whilst doing, to complement more traditional learning methods. That is why we have created so many flexible and multipurpose learning spaces with a variety of equipment and furniture to support new and innovative pedagogies."
Doni seating features an articulating backrest for added user comfort, and has been specified with different base styles to suit various applications around the school. A colourful selection of Hatton chairs brighten up the cafeteria and other communal areas. Teachers have also been provided with elegant and ergonomic Intellect Wave task chairs. These chairs provide excellent ergonomic support from their robust yet lightweight shells that are resistant to scratching, fading, chipping or denting.