October 15, 2013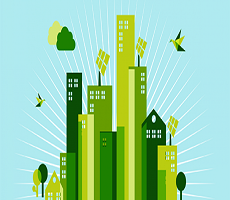 A policy for all new non domestic buildings to be zero carbon from 2019 was introduced by the Labour government in 2008. Although the Coalition Government recommitted to this target, announcing in July it would strengthen energy efficiency standards for new non-domestic buildings from April 2014, they had yet to come up with a definition of zero carbon for non-domestic buildings.  The UK Green Building Council, whose membership includes the architects, developers, contractors, product manufacturers and others who will be tasked with delivering zero carbon buildings from 2019, is therefore launching a new Task Group to help define and build support for a definition of zero carbon for non-domestic buildings that works for industry. 
The Task Group will focus on three key areas:
1) The business case for action – building on the BIS Construction Sector Industrial Strategy to establish the economic benefits to the UK of delivering zero carbon non domestic buildings, as well as the costs of uncertainty.
2) The technical detail of the zero carbon definition – including metrics, the Allowable Solutions framework, the issue of unregulated energy and the relationship of zero carbon to the EU's 'nearly zero energy buildings' 2020 policy.
3) The institutional structure/governance to oversee the implementation and delivery of zero carbon for non-domestic buildings.
Sarah Cary, Sustainable Developments Executive at British Land and Chair of the Task Group, said: "I'm delighted to be chairing this new Task Group to take forward the definition of zero carbon for non-domestic buildings. The implementation date for zero carbon non domestic -2019 – is not very far away and the earlier we can get clarity on the definition, the better for industry.
"This group offers a chance for industry to set out what it thinks should happen next, and help build a strong business and economic case for action."
The Task Group, which is sponsored by British Land and Saint-Gobain, will launch its final report in February 2014.