December 9, 2020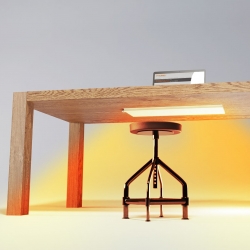 A new workplace heating solution that delivers targeted, gentle heat to desk-based workers is enabling building managers to reduce ambient temperatures by 2-3 degrees Celsius. The LAVA DESK 2.0 under-desk heater, manufactured from high-quality components in Austria by Etherma – and available exclusively in the UK from ARC Thermal Products – offers workers perfect warmth and comfort at their desk – whether in the workplace or for those home-based during the Covid-19 period.
As an infrared heater, the LAVA DESK 2.0 delivers precise, low-temperature radiant heat which is not only safe and free from electromagnetic fields (EMF), it requires no maintenance during its operational phase. ARC Thermal offers a five-year warranty as standard.
Low carbon & quick ROI 
ARC Thermal has seen a marked rise in interest in the product from companies that are carbon conscious and are exploring new, low-cost ways to deliver energy efficiency within the workplace. The under-desk heater has already been deployed at sites at all over Northern Europe and in large commercial buildings in Docklands, London.
Energy professionals will therefore welcome the news that the LAVA DESK 2.0 costs around £0.001 per hour to run.
Because the heater enables staff to stay warm in a more targeted way, ambient heat levels can be lowered – typically by 2°C-3°C. For every 1°C the thermostat is lowered to fuel consumption is reduced by 8% (source: Carbon Trust). This delivers a low return on investment in a commercial office setting. When comparing the LAVA DESK 2.0 against traditional under desk convector heaters the return on investment can be as low as 120 days.
Simple installation & safe  
Simple to deploy – even at scale in large office complexes – this silent infrared heater can easily be installed under a table or desk and requires no servicing – alternatively a stand for upright use is available. A 3-pin plug with 2 metres of cable is supplied with each heater. Crucially, at only 15mm high, the LAVA DESK 2.0 is practically invisible under a desk and does not take up any additional space.
For those concerned by the concept of a desk-mounted heat source, it is important to note that there is minimal heat emitted from the back of the heat panel which means it will not cause any damage to work surfaces or IT equipment.
Controls 
Controls allow the user to select three power levels to meet their preferred comfort level and a timer to ensure the heater is not left on longer than required.
Commenting on the UK launch of the LAVA DESK 2.0, ARC Thermal's CEO Andrew Bloore said: "The LAVA DESK 2.0 has the potential to revolutionise the way UK plc's can keep its UK desk-based workers 'warm for less' this winter. More and more companies are embarking on a net zero journey at present – and as heating accounts for between 20%-40% of a typical office building's energy bill, we see wide-scale deployment of this heater as one way to get a grip on energy bills. This will be much welcomed by energy managers, facilities managers and building engineers."
For more product information: 
https://arcthermalproducts.co.uk
Call 0800 210 0288
E-mail: sales@arc-ers.co.uk