December 9, 2020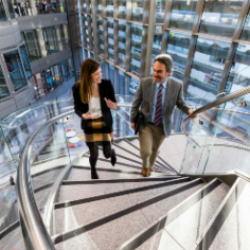 Freelancers actively promote entrepreneurship, claims research from Trinity Business School, suggesting that a 10 percent increase in freelancers within the workforce leads to a 1 percent increase in entrepreneurial activity in the economy.
According to research from Professor Andrew Burke, Dean and Chair of Business Studies at Trinity Business School, alongside researchers from Cranfield School of Management, entrepreneurship levels are dependent on the availability of freelancers or independent contractors in the workforce.
Having undertaken a global study, in which the researchers looked at the impact of independent contractors on entrepreneurial activity across 75 countries over the period of 2002 to 2012, Professor Burke and his team highlighted a positive relationship between the number of freelancers and entrepreneurial activity levels.
"When you are a start-up it is hard to compete with existing firms"
The finding causes a re-appraisal of the role of solo self-employed in the economy who are normally viewed as low performing entrepreneurs. Professor Andrew Burke, emphasises: "This study shows that such a view misses the reality that new business start-ups rely on the availability of freelancers to be able to overcome barriers to entry and adopt a lean and variable cost model that reduces financial constraints. Combined, these effects enable new start-ups to effectively break into markets and compete with longer established firms."
The researchers also claim that this positive relationship between the availability of freelancers and entrepreneurial activity levels exists irrespective of the type of entrepreneurship, and also holds for economies across all levels of economic development. According to the Professor Burke and his colleagues, this is because independent contractors have an enabling effect for every kind of entrepreneurship under all economic conditions.
Professor Andrew Burke, makes the point that "When you are a start-up it is hard to compete with existing firms with much larger numbers of experienced employees. However, freelancers allow start-ups to reverse this disadvantage by being able to draw on an even greater number of experienced freelancers who can be engaged on an 'on-demand' flexible, agile and pay-as-you-go basis."
Image:Trinity Business School