November 29, 2018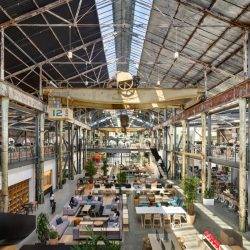 The next generation of office buildings will draw employees back to the workplace, a new report from architect and design firm Gensler suggests. It suggest that an increased number of employees are set to be drawn back to the office, as the importance and power of face-to-face interaction grows, and office design increasingly caters towards this. This year's 2018 Design Forecast report, Shaping the Future of Cities (registration required), created by the Gensler Research Institute explores over 200 of the latest trends that are changing cities across the world. The overarching prediction is that design will "put people back at the centre" and become the driving force behind resilient, liveable cities. Buildings that react and respond to the people within it will be critical to the workplace experience, harnessing data to interpret internal workplace data and make intelligent adaptations.
Other key trends identified in the report include:
The impact of cities on workplace design
Cities are nurturing a new mix of businesses and people, and growing at an unprecedented rate, contributing more than 80% of global GDP. With more companies choosing to locate to cities, workplace design has been a core focus to attract talent – developing a synergistic relationship with the local community has become essential to communicate and infuse the workplace with the urban core to engage employees, clients, and the community at large.
Importance of individual experience
With workplace strategies now following the 'one size does not fit all' mindset, multipurpose buildings will become default, making single-use spaces obsolete. In a rapidly changing environment, designers will be required to rethink and reinvent how people experience every aspect of their lives and spaces that they live in.
Data from the Gensler Experience Index uncovered a direct connection between the quality of design and a positive emotional response from people and found the best experiences anticipate people's needs, tap into their emotions, and engage the senses.
The rise of smart cities
Gensler sees smart cities in terms of their adaptability and resilience. As engines of innovation, their leaders are in the vanguard of climate action "because they depend on it" for survival and growth. And wellness is the new measure of liveability. "Health has become a major factor in urban and community planning, as research and public awareness about the link between them grows," the report states.
The latest Shaping the Forecast report along with further insights from the Gensler Research Institute can be found on the Gensler website: https://www.gensler.com/research-insight/publications/design-forecast/shaping-the-future-of-cities