November 30, 2018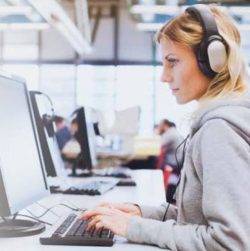 The UK could boost GDP by around £40 billion a year in the long run if it reduces the number of young people not in education, employment or training (NEET) to match Germany, the best performing EU country. Despite making improvements in recent years, the UK only ranks 19th out of 35 countries across the OECD on a PwC index based on a range of indicators of youth employment, education and training. But this is slightly better than the UK's ranking of 21st across the OECD on a similar PwC index for older workers released earlier this year. Across England NEET rates vary significantly, reflecting the disparity in educational attainment and job opportunities across the country. In 2017, the West Midlands had the highest NEET rate for 19-24 year olds at 16.7 percent, followed by the North East by 16.3 percent. Meanwhile the South East and South West have the lowest rates, both at 11.5 percent (see table below).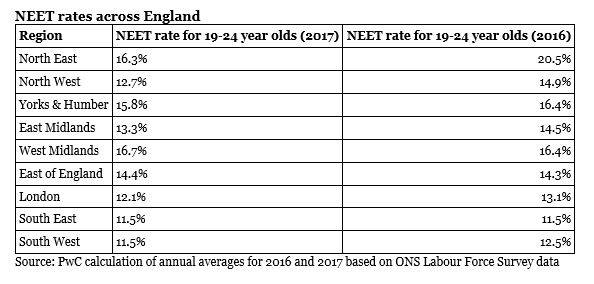 John Hawksworth, chief economist at PwC UK, comments: "There are wide disparities in the outcomes and opportunities for young people across the country. Differences in education quality and attainment play a large role in the success of getting people into jobs, education or training. Continued government work is needed in order to improve outcomes for disadvantaged youth and to boost social mobility, but business also has a role to play. Employers need to work with universities, schools and other educational providers to ensure young people have the skills they need for the age of automation. They also need to help in retraining older workers to adapt to these new technologies. This is not just about improving digital skills, but also developing the kind of creative and human skills that machines find it hard to replicate."
The report identifies a number of ways in which businesses can attract and retain talented employees:
• Offering high-quality vocational training opportunities, working with universities and other educational providers
• Achieving a diversity of perspective. Firms should prevent discrimination of all kinds and ensure opportunities are open to workers from disadvantaged backgrounds to widen the perspectives that people bring to businesses
• Incentivising workers through other means than financial compensation. Examples include businesses scrapping strict uniform policies and relaxing limits on annual leave, as well as having a strong corporate purpose on issues like the environment.
Laura Hinton, chief people officer at PwC UK, comments: "Financial incentives aren't enough to attract workers, they're also interested in the purpose and ethos of a potential employer. People want to work with organisations that reflect their own values, which is why it's so important for companies to take a stance on key issues like diversity, sustainability and flexible working. Finding the right skills for the future is a big challenge for many businesses, and people will be at the heart of driving innovation and success. Employers need to think differently in order to attract people of different backgrounds. Our technology degree apprenticeships are one example of how collaborating with educational providers can help open up avenues to training and employment for diverse groups of people, while equipping businesses with a skilled and relevant future workforce."
Looking beyond the UK, across the OECD there is a huge variance in NEET rates, ranging from around 6% in Iceland to more than 30% in Italy and Turkey for 20-24 year-olds in 2017. The OECD believes that countries could add around $1.2 trillion to total GDP in the long run if those with higher NEET rates among 20-24 year olds lowered their rates to German levels.