November 25, 2015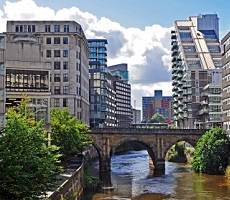 When the Chancellor of the Exchequer George Osborne announces the Spending Review today, he's likely to mention the Northern Powerhouse, the programme to rebalance the UK economy by pushing growth in England's northern cities. His vision of this form of one nation conservatism may have helped to increase occupier and investor confidence across the Northern Powerhouse office markets, as illustrated by the Northern Powerhouse Office Market Report 2015/16, published by Lambert Smith Hampton (LSH). It shows strong performance across the eight key markets so far in 2015 – with combined take-up expected to reach 5.2m sq ft by the end of the year compared with 4.6m sq ft in 2014. Manchester city centre is leading the way and is on track for a record year, with almost 1.4m sq ft of office space expected to be let or sold by the end of 2015 – well above the 10-year annual average of 966,000 sq ft.
The picture is also extremely positive in Leeds, Newcastle and Sheffield, with only Liverpool predicted to see activity fall short (albeit marginally) of its annual average in 2015.
Tony Fisher, National Head of Office Agency at LSH, said: "The office market across the Northern Powerhouse is undoubtedly in a strong position. Confidence is high and the best performing cities are benefiting from strong demand. Both in the traditionally dominant sectors of finance and professional services, as well as emerging sectors like Technology, Media and Telecommunications (TMT).
Challenging London's competitiveness
"With a rise in the number of London-based companies looking to rebalance their regional operations, largely to avoid the rising costs of the Capital, it bodes well for sustaining the Northern Powerhouse initiative in the coming months and years."
In Manchester city centre, demand is high with 2015 take-up forecast to reach its highest annual total on record. Strong occupier demand is also providing scope for more development and refurbishment activity. In Leeds, take-up is forecast to be 30 percent higher than the ten-year average and in Sheffield, near record take-up is being driven in part by the city's two thriving universities.
Alongside strong take-up though, there is a shortage of supply in some areas across the region – particularly in Sheffield and Newcastle.
Key components for success
As well as analysing the region's office market, the report looks at the importance of investing in the region's transport infrastructure, the changing workforce and how the Northern Powerhouse can take advantage of the region's highly-skilled talent pool and relative cost effectiveness in comparison to London to forge new global centres of excellence.
The region's track record in fostering high-tech, high growth Knowledge Intensive Business Services clusters – such as MediaCity in Salford and the Advanced Manufacturing Park in Rotherham – is a source of competitive advantage and must be driven forward, says the report.
While there is just over 1.2m sq ft of space (net of pre-lets) under construction across the core Northern Powerhouse cities, grade A take-up for the first three quarters of 2015 amounted to more than 1.6m sq ft. If demand continues at the same pace throughout 2016, the current development pipeline will be absorbed in less than a year. As such, the case for further speculative development is becoming increasingly compelling.