May 11, 2023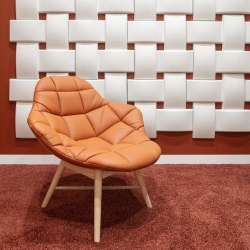 Norwegian furniture powerhouse Flokk have opened a stunning new showroom in the vibrant city of Manchester. The open plan space showcases the Flokk portfolio with popular designs from brands Offecct, HÅG, Giroflex, RH, Profim and the newest brand to join the family, Connection. Positioned in the city centre, with unrivalled access to all railway stations and the airport, Flokk's Manchester showroom will welcome guests from across the North-West and beyond.
The large 4000sq ft space with mezzanine level was designed in collaboration with Resonate Interiors and executed by Icon Projects. Fitted out with Iiyama AV equipment the showroom boasts several spaces for presentations and meetings, including a CPD area and theatre space, reflecting the ability of the Flokk portfolio to meet any requirement in commercial design.
Amongst the stunning ranges on display are the iconic HÅG Capisco, Connection Rooms, Profim Normo and an impressive installation of the Offecct Soundsticks, an acoustic baffling product designed to upcycle the ends of rolls of upholstery fabrics in Offecct's factory.
Attending the opening day of the showroom Lucy Hardwick, Flokk UK, Marketing Director commented: "The new Manchester showroom signifies the first time all Flokk UK products are under one roof as a House of Brands. Opening the showroom will continue to propel Flokk forwards in the UK and enable us to showcase our furniture solutions to our customers based in the North and beyond.
As one of the fastest growing cities in the UK, Manchester is crucial to the growth of Flokk as an organisation and each brand individually. We are now ideally placed to take the next step in our growth journey, ensuring we remain at the forefront of the commercial furniture industry".
The showroom will be the Flokk North teams' space to host guests for meetings, events and tours. To book a showroom tour contact Natalie.smith@flokk.com or drop into the showroom at 3-7 Booth Street.