October 13, 2022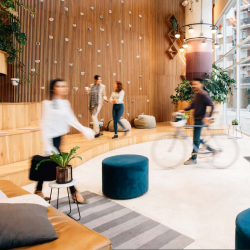 A new report from JLL claims that utilisation rates of US offices are returning to something closer to those of the pre-pandemic world, although hybrid working remains a far more widespread working practice than before. In addition, the focus of the market is shifting away from major city centres towards smaller, regional towns and cities. The US Office Outlook Report [registration] also suggests that higher quality office space is essential as lower grade offices are more likely to remain abandoned.
After Labor Day when many employers drew a line in the sand to usher workers back to their desks, return-to-office rates have hit a pandemic high, but companies are still figuring out how intensified economic headwinds and evolving hybrid work patterns will impact how they utilize office space.
JLL's latest office outlook report explores this latest RTO landscape and offers a forecast for office recovery as companies intensify efforts to bring workers back on a hybrid basis.
Key claims from JLL's report include:
The office is more back than you think, as re-entry rates reach post-pandemic high.  
Following Labor Day RTO mandates, re-entry rates have reached a post-pandemic high in Q3 at 47 percent, up from 35 percent this time last year, and are forecasted to reach 65 percent by Q1 2023.
The US is closer to a pre-pandemic normal of utilisation than people think. Workers were never in the office 100 percent of the time before COVID-19 swept the world; JLL finds the top of scale was more in the 70-80 percent range pre-pandemic for time spent at the office for an average employee.
Secondary growth markets outpace major metros. 
Growth markets in the Sun Belt continue to outpace major city centers. Atlanta, Austin, Charlotte, Dallas, Denver, Miami, Nashville, Phoenix and Raleigh are at 76.6 percent quarterly leasing relative to pre-pandemic normal, whereas, large metro markets, including Boston, Chicago, D.C., LA, New York, San Francisco and Seattle, are at 60.2 percent.
In particular, Texas stands out in RTO race, with the top three highest re-entry rates being in Austin (60.5 percent), Houston (57.6 percent) and Dallas (53.8 percent).
Intense flight to quality continues to drive leasing market, leading to vacancies in old office space.  
Flight to quality continues to be the driving force behind most companies' leasing decisions, which has driven down renewal rates in favour of relocations to higher-end space. And despite inflationary pressures having only moderately alleviated, the flight to quality higher-end space is expected to propel a robust high-end segment of the office market.
As companies opting to upgrade to higher-quality space gains popularity, vacancy growth is being driven predominantly in older, lower-quality office space, where the spread between new and older supply are widening in most major markets.