February 21, 2017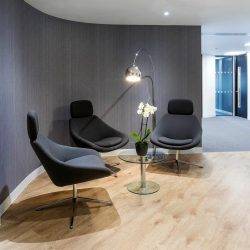 Older workers are at risk of being marginalised in the workplace according to a new survey of office workers from workplace consultants Peldon Rose, which claims that there are significant differences in the wellbeing, attitudes and motivations of the workplace's oldest and youngest employees. The over 50s now account for more than 30 percent of the UK's working population (9.4million people), but according to the study older workers are the least content of all employees with less than a quarter (23 percent) of the 55+ age group feeling appreciated by their company and 80 percent suffering from or having suffered from workplace stress.   In contrast, the workplace's newest recruits, the under 25 year olds, are the office's most positive employees with over half (55 percent) feeling appreciated by their company and 60 percent – the lowest of all age groups – suffering or having suffered from workplace stress.
Peldon Rose warns that businesses are creating a 'forgotten generation' of older workers who, despite their experience and knowledge, do not feel their voice is being heard at work – less than a fifth (17 percent) of over 55s believe that their company values their opinion on the workplace, compared with over a third (37 percent) of the under 25s.
The oldest and youngest employees also have different priorities and motivations, presenting clear challenges to businesses seeking to ensure the wellbeing and happiness of all their employees.  While over three-quarters (76 percent) of the under 25s think social events and wellbeing packages such as gym memberships (63 percent) are important for supporting their wellbeing at work, the 55+ age group consider social events (56 percent) and wellbeing packages (39 percent) as the least important workplace benefits. In addition, two-fifths (42 percent) of under 25s think social and communal areas in the workplace are very valuable, but only a quarter (24 percent) of the over 55s believe the same.
Fortunately, the survey also reveals some important similarities between what the generations require and want from their office environment, which businesses should focus on rather than prioritising one age group's needs over another.  Currently only a minority of all employees, under a fifth (18 percent) of the 55+ age group and a third (35 percent) of the 21-25 age group, believe their office environment has a positive effect on their wellbeing and mental health, suggesting that even small changes to the office environment could have a big impact across the generations.