March 18, 2013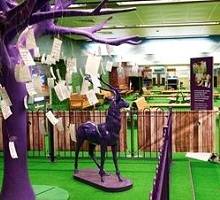 Missing the fervour of the London 2012 Olympics? Then take a flight to Heathrow. If you're travelling from within the UK and Ireland or on certain international flights such as San Francisco and Cape Town you'll get to re-experience the park themed "Games terminal" which was last used during last year's Olympics. Terminal 1's gate 20, which sees over 270,000 passengers a year, has been transformed into a rather garish neighbourhood green, complete with park benches, iconic images from London parks and green foliage, designed to leave a lasting memory of the UK beyond the Games.
According to BAA, the feedback from the Olympians that travelled through the London park at Heathrow was so overwhelming the team were inspired to bring the experience to passengers as well. The memory tree from the Games Terminal will also be installed for passengers to read messages from athletes, coaches and staff on their memories and experiences during their visit to London.
Ian Hanson, Operations Director at Heathrow's Terminal 1 said; 'When we saw how much the athletes enjoyed their experience in the Games Terminal, we wanted to extend the park experience beyond the Olympics to create a permanent space that will leave a lasting memory for those departing from the UK's hub airport.
He added: "We are delighted by the outcome and can't wait to see people's reactions when they see it.'