June 14, 2013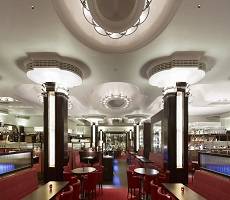 Just one commercial office building – Quadrant 3 on Regent Street in London [pictured] by Dixon Jones with Donald Insall Associates – has received a prize in the 2013 Royal Institute of British Architects (RIBA) National Awards. Many of the winners for the most rigorously-judged awards for architectural excellence are publicly, charity or foundation funded, with fewer medium-scale projects amongst the winners, both public and commercial. The shortlist for the RIBA Stirling Prize for the best building of the year will be drawn from the 52 RIBA National and EU Award winners (43 buildings in the UK and nine buildings elsewhere in the EU).
This year's award winners include the 242 hectare Olympic master plan; the innovative yellow-roofed Ferrari Museum in Italy; M&S's new 'green' flagship store in Cheshire and the National Trust's dynamic new visitor centre at the Giant's Causeway in Northern Ireland.
Well-known 'star' architects and smaller architecture practices, some who have never won an RIBA award before, will now be battling it out to make it onto this year's RIBA Stirling Prize shortlist for the best building of the year.
One-third of this year's UK winners are exceptional education buildings, from small nursery schools to major university campuses. Some of the last Building Schools for the Future (BSF) schools have made the grade this year with winners including St Alban's Academy in Birmingham and Kingswood Academy in Kingston upon Hull, whose ingenious use of limited space has created exceptional and inspiring facilities for students, not to mention bully-deterring toilets.
Commenting on the list, RIBA President Angela Brady said: "Risk-taking is not for the faint-hearted in recessionary times, but amongst this year's crop of truly exceptional buildings, I am delighted to see such a variety of projects doing just that. From Jesmond Gardens, an open-plan primary school in Hartlepool with rooms divided simply by acoustic curtains, and the mould-breaking North London day-care hospice modeled on an over-sized house to appeal sensitively to its patients, to the Hive in Worcester, the first library for shared use by both the public and a University.
She added: "It is good to see that sustainability is at the heart of so many of these winners – most clearly perhaps where, encouragingly, a major client has championed it, as in the case of M&S in Cheshire.
Click here for full details of all the winners.
By Sara Bean