January 4, 2013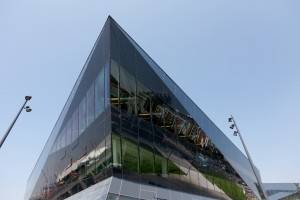 The Crystal, which was built by Siemens to showcase sustainable design and construction, is the venue for a couple of major events in February.  Achieving BREEAM Outstanding, the Crystal opened at Royal Victoria Docks in London last September to provide a hub for discussions and dialogues about how to create a sustainable urban future. The Crystal will also be home to the Workplace Futures 2013 conference, organised by i-fm.net on the 12 February, and will include an opportunity for delegates to attend the building's interactive sustainable exhibition prior to an evening networking session.
BIFM Sustainability SIG is also organising a behind the scenes tour of the Crystal on 19 February (17:30 -19:30) to see the technologies that have been incorporated in the building design, and to find out how it has been operating in practice.
Those attending will also be shown round the exhibition on sustainable cities that makes up approximately one third of the building.
Places for the tour, open to BIFM members and sponsored by Assurity Consulting, are limited, so early booking is advisable.